OCAT Shanghai is delighted to present the exhibition with/against the flow: Contemporary Photographic Interventions from April 17 to June 20, 2021. This exhibition is part of a series* on contemporary photographic interventions organized by ifa (Institut für Auslandsbeziehungen) and is co-curated by Florian Ebner and Christin Müller.
What is the potential lurking within our constantly changing relationship with photography? What possibilities are contained in the new formats of visual communication? How can documentary approaches be combined with interventions in the image? Or, to put it in more general terms, what are the characteristic features of contemporary artistic photography?
This exhibition in Shanghai contains photographic and video works by artists Taiyo Onorato & Nico Krebs and Sebastian Stumpf who respectively live in Switzerland and Germany. What links the artists is their performative interventions in photographic and cinematic images. Operating in ways that are both subversive and artistic, in the true sense of the word, Stumpf and Onorato & Krebs explore the limits of the tools they work with, using visual tricks and deceptions to create suspense and illusion. In the process, the artists abandon the idea that a recording of the present should forgo any stage-managed intervention. Instead, the artists use enactments to offer a trenchant response to the world of images that surrounds us. At the same time, they turn a critical eye on constructed urban space and landscape as a formalized expression of social politics. How is our movement in this environment controlled and directed? How do humans relate to the realities of the city? Where are the forgotten voids and lacunae in the urban fabric? How can artistic interventions make productive use of open spaces?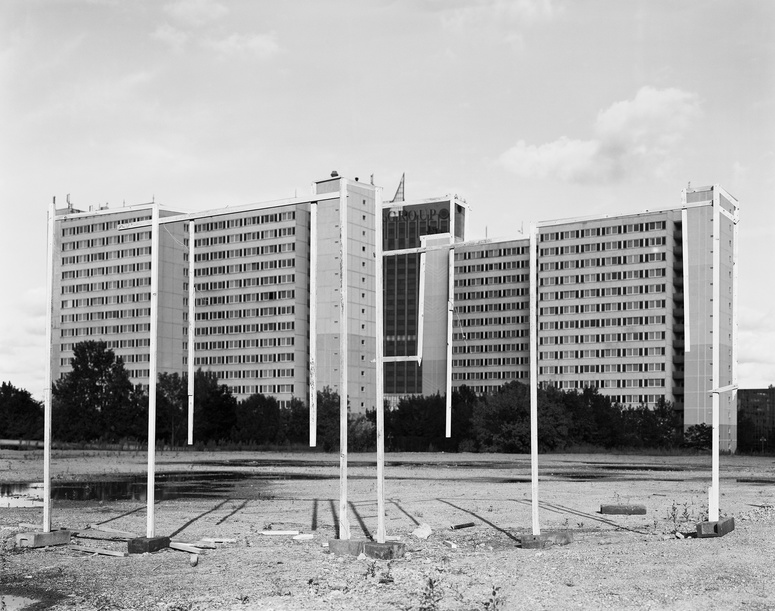 Taiyo Onorato & Nico Krebs's cryptic observations, optical illusions, and subtle constructions spotlight the cultural quirks of different societies. The group of works Constructions (Building Berlin) is the artist duo's take on Berlin's urbanistic realities. A certain mythology clings to the German capital on the global stage, where it is imagined as an eternal wasteland offering space for individual fulfillment and self-actualization. For their work, Onorato & Krebs seek out empty spaces and use them as a site for artistic experimentation, creating near-perfect optical illusions with the help of pyrotechnics and strips of wood. Their interventions exploit the optical laws of perspective to become part of the urban fabric. The photographs extend the existing ensemble of buildings with wooden constructions, undercutting them with quiet humor. In the three films Lamp, Chimney, and Fire, the street furniture takes on a brief life of its own – when a pink light shines from a street lamp, a defunct chimney begins to smoke, or a building burns down – before reverting to its habitual guise. The details of these interventions skillfully reveal the truth of them, so that they oscillate between construction and deconstruction – between built reality and a realm of possibility.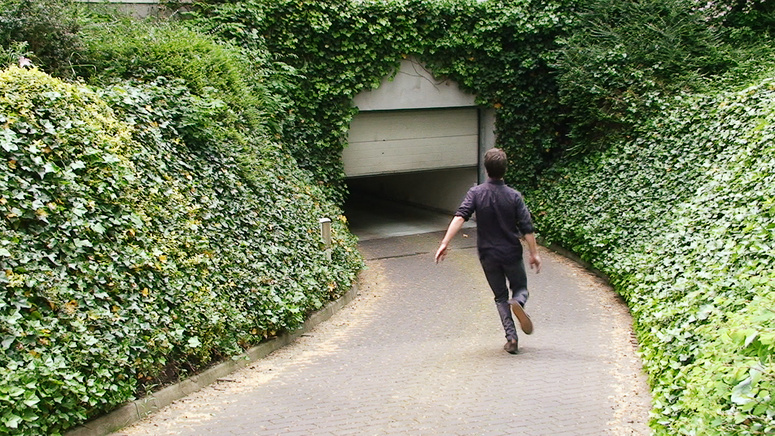 Sebastian Stumpf is active both in front of and behind the camera, as performer and operator. In his works he responds to the architectural configurations he finds with precise physical interventions. In the photographs in Sukima, he uses his physical presence to highlight the nondescript gaps between high-rise buildings in Tokyo that are stipulated by fire safety regulations. The Zenith series was made on the Atlantic coast of Portugal, where Stumpf took as his starting point the concreted remnants of buildings, inserting his body into the image as a physical yardstick. In each case, the artist takes a pair of photographs, positioning himself in a particular relationship with the horizon and thus questioning the perspectival construct of the photographic image. In his video works Underground Garages and River, Stumpf extends the photograph's frozen moment with adventitious, unexpected movements, providing new angles on urban furniture. Stumpf thus offers up action as posture as a counter to the purely verifying gaze of the camera. By repeating the same movements in a variety of different places, he shifts the focus from the limiting impact of urban structures to their open potential.
—————————
* The series began its world tour with the artists #1 Viktoria Binschtok #2 Michael Schäfer in 2016 in Tbilisi and has been shown in Krasnojarsk, Minsk, Charkiw, Almaty, Bischkek, Mumbai, Bangalore and Chennai. With the artists #3 Sebastian Stumpf #4 Taiyo Onorato & Nico Krebs the series continues its tour in 2020-2021 to China, in Guangzhou, Nanjing, and Shanghai.
Text by Christin Müller
Image courtesy of ifa (Institut für Auslandsbeziehungen), Stuttgart, Germany
Touring exhibition of ifa (Institut für Auslandsbeziehungen)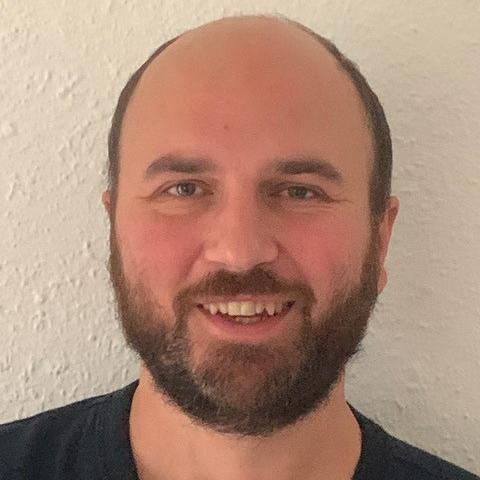 Taiyo Onorato (above) & Nico Krebs (below)
Switzerland and Nico Krebs (born 1979 in Winterthur, Switzerland) lives in Ottenbach, Switzerland. Onorato & Krebs studied photography at the Zurich School of Art and Design, Switzerland and have been working together since 2003.
With profound observations, optical illusions and subtle constructions, Taiyo Onorato & Nico Krebs draw our attention to cultural idiosyncrasies in various societies — or even civilizations, as in their work on the USA, The Great Unreal and in Continental Drift which they developed in Asia. Their photographs and film installations do not just show real urban ensembles, but use small interventions to reflect on our own ideas and clichés that we project onto them.
Selected Solo Exhibitions
Future Perfect, Sies + Höke, Düsseldorf, Germany, 2019
Defying Gravity, Kindl, Berlin, Germany, 2018
Selected Group Exhibitions
From A to B, Museum Morsbroich, Leverkusen, Germany, 2020
Photo 2020, Melbourne, Australia, 2020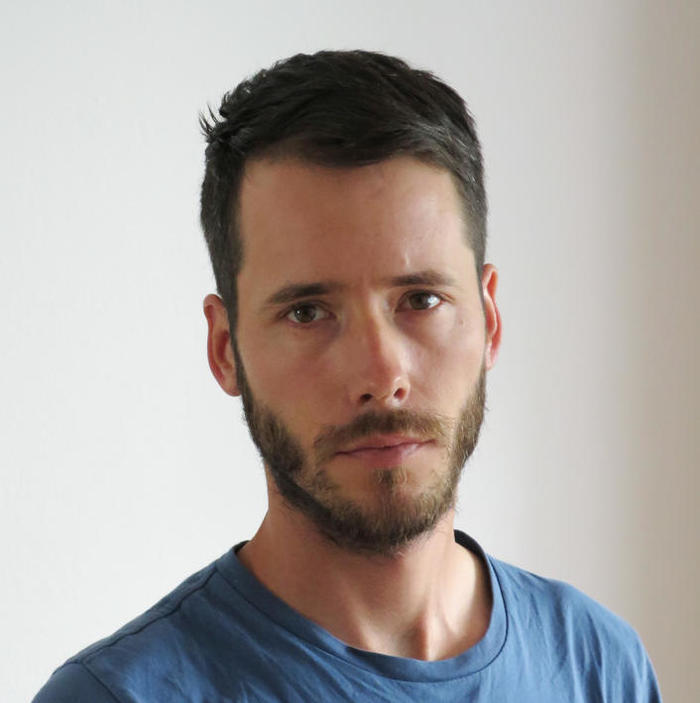 Sebastian Stumpf (born 1980 in Würzburg, Germany), lives and works in Leipzig, Germany. Stumpf studied painting, drawing and object art at the Academy of Fine Arts Nuremberg, Germany and photography at the Academy of Visual Arts Leipzig and the École Nationale Superieure des Beaux-Arts de Lyon, France. He has been a recipient of multiple grants including a Fellowship of Villa Aurora, Los Angeles and a grant from the German National Academic Foundation.
Though the physical protagonist of Sebastian Stumpf's photography is the artist himself, the body that is presented within various environments is pure agency. As such, this body disrupts and re-contextualizes the existing context illustrating the impossibility of perceiving anything that is devoid of the subject's influence. The audience is thus allowed to linger on the final moment before the action-disruption takes place.
Selected Solo Exhibitions
12x12 Video Art, Berlinische Galerie, Berlin, Germany, 2019
Zenit, Galerie Kleindienst, Leipzig, Germany, 2019
Selected Group Exhibitions
Sehnsucht, DG Kunstraum, Munich, Germany, 2020
Line in the Sand, Galerie Thomas Fischer, Berlin, Germany, 2020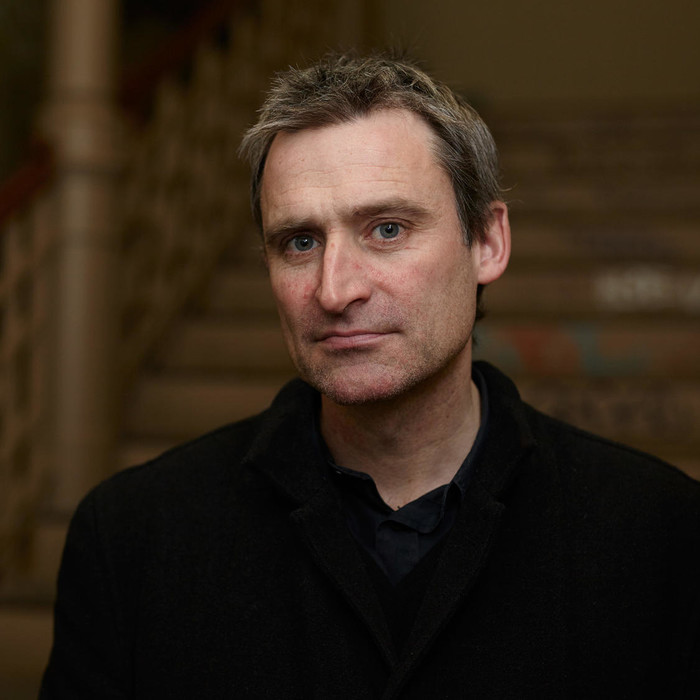 Florian Ebner, born in Regensburg in 1970, studied photography at the École Nationale de la Photographie in Arles, and art history at the Ruhr-University Bochum. Since 2017 he has been director of the Cabinet de la photographie in the Centre Pompidou, Paris. Prior to this he was (from the end of 2012) responsible for the photographic collection at the Museum Folkwang, and from 2009 to 2012 director of the Museum for Photography in Braunschweig. He was curator of the German Pavilion at the 56th Venice Biennale in 2015, and in 2017, together with Christin Müller, curator responsible for the Biennial for Contemporary Photography in Mannheim, Ludwigshafen and Heidelberg. From 2000 to 2006 he was artistic assistant for photography at the Academy of Fine Arts (HGB) in Leipzig. Florian Ebner works on modern photography and the contemporary image.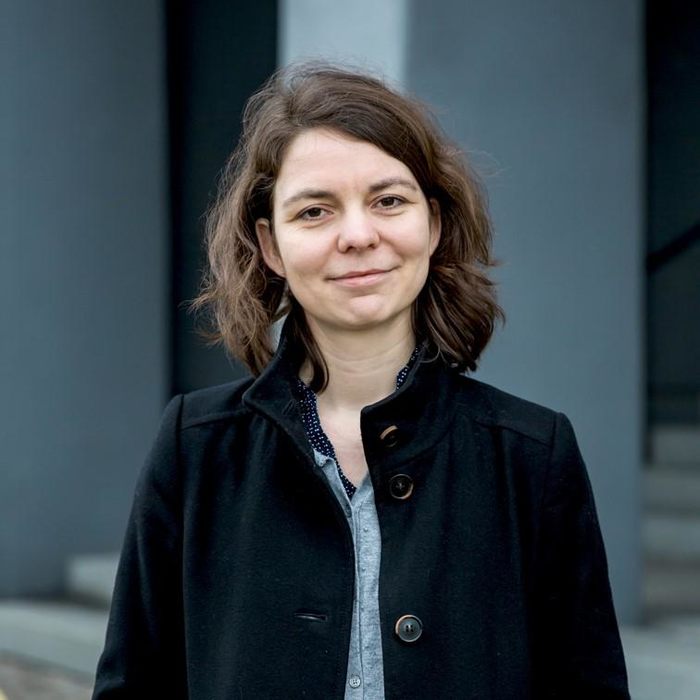 Christin Müller, born in Leipzig in 1983, is a freelance curator and author and has a degree in cultural studies and aesthetic practice from University of Hildesheim. Since 2014 she has worked as assistant for the Thomas Walther photography collection and has had lectureships at Leipzig University and Hannover University. Among other magazines, she writes for Photonews, Camera Austria and Kunstforum International. In 2017, with Florian Ebner, she was artistic director of the Biennial for Contemporary Photography in Mannheim, Ludwigshafen and Heidelberg. Since 2015 they have been co-curating the exhibition series with/against the flow: Contemporary Photographic Interventions. Since 2019 she has been curator in charge of the Wüstenrot Stiftung's award in support of young artistic documentary photography.