OCAT Shanghai is pleased to present Kelvin Kyung Kun Park & Oliver Laric Dual Solo Exhibition during Feb 26 to May 8, 2022.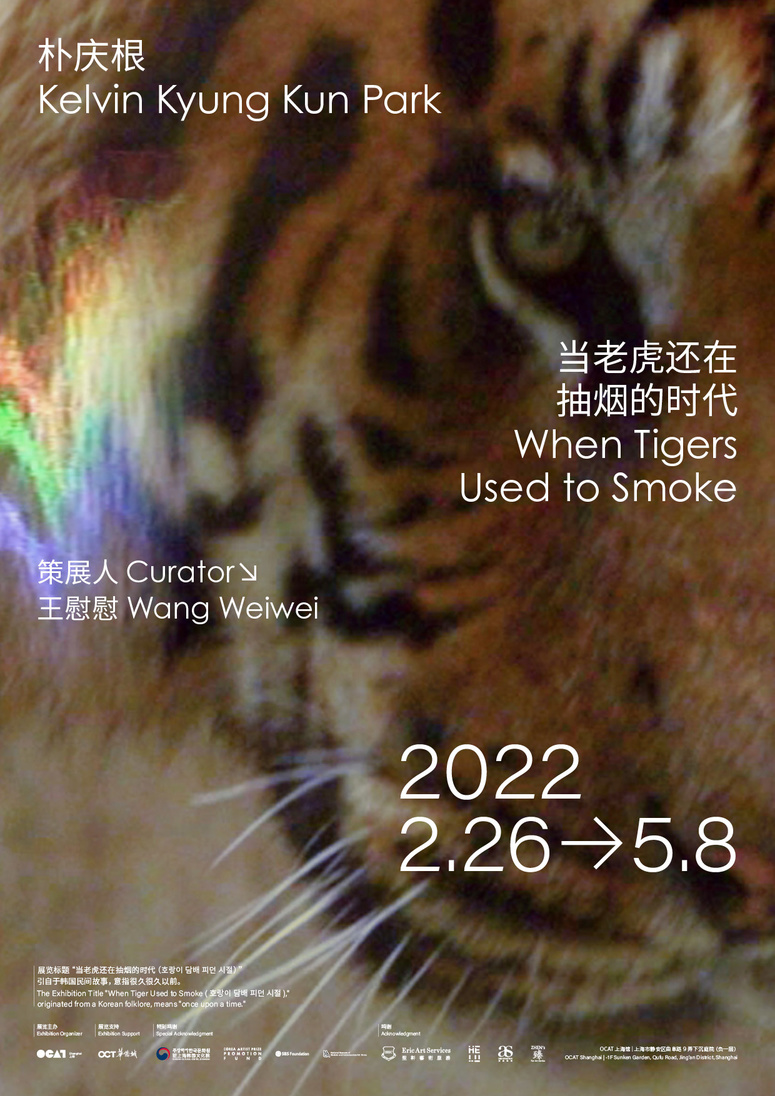 Kelvin Kyung Kun Park Solo Exhibition: When Tigers Used to Smoke
Korean artist Kelvin Kyung Kun Park's exhibition "When Tigers Used to Smoke" ¹ at OCAT Shanghai, unfolds around the shaping of the self, taking viewers to explore the intertwined relationship between self and other in the process of continuous reflection, reversal, and reconstruction, to address anxieties of self-knowledge and identity crisis from multiple perspectives.
The exhibition will feature several important video and installation works by Kelvin Kyung Kun Park. The exhibition starts with his latest series, "Animal" (2021), in which Park attempts to dismantle the shaping process of self-perception through observing and imagining animals in action, hence re-examining the position of humans in the natural world. By applying Waveform Signal used to determine color information so that the color and brightness of the captured beasts' bodies constantly fluctuate up and down on the XY axis, allowing the viewer to see the dismantled, fluid, and even dislocated living beings in action, thereby to re-imagine humanity in that context. The work Stairway to Heaven (2016) turns to a more personal view, exploring how politics, tradition, pop culture influence the individual's relationship with the other and the collective, and so on, as well as how such influences internalize and disorients the self. Other important works from his early years, Cheonggyecheon Medley (2010) and 1.6 Sec (2016) both subject to imagine the relationship between human and industrial production from different perspective. The former dipicts the daily life of the residents in the area of Cheonggyecheon Seoul, where Korean industry and commerce gather. It is a euphemism for the development of modern Korean industry, revisiting the cult of collective grandeur that industry once represented in the modernization process from the perspective of digital images. The latter portrays a highly mechanized factory assembly line, imagining the mutual gaze between man and machine and man's self-perception in the modern production and living environment.
From the issues in the steel jungle to the seemingly simple visual alienation of animals, Park always asks the viewer, and more importantly himself, the essential question of human nature from various perspectives and approaches: How do I become me? Do I really have a sense of subjectivity?
Curator Wang Weiwei
_______________________
¹ The Exhibition Title "When Tigers Used to Smoke (호랑이 담배 피던 시절)," originated from a Korean folklore, means "once upon a time."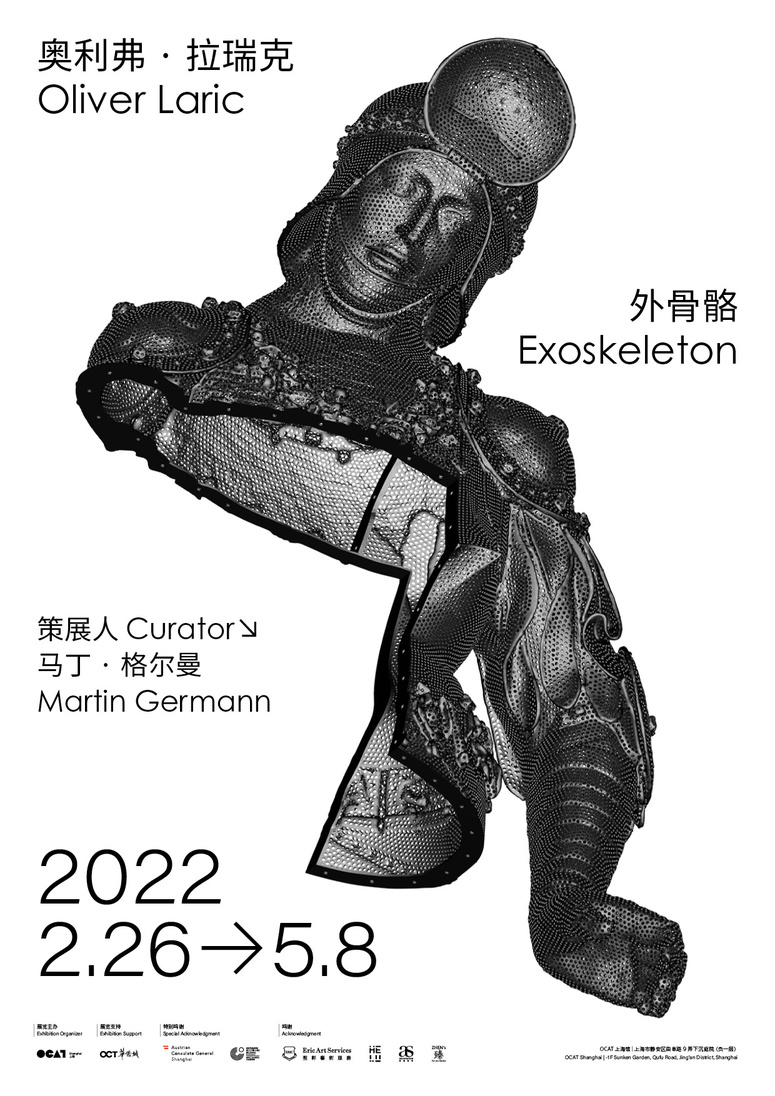 Oliver Laric Solo Exhibition: Exoskeleton
For Austrian artist Oliver Laric's exhibition entitled, "Exoskeleton" at OCAT Shanghai, his first institutional solo show in China, a trilogy of recent animation films completed between 2014 and 2021 will be presented together for the first time. Their consecutive development can be construed as a declension of cultural and technical means in animation production gradually building on each other in a broad framework. The films will be shown along with a set of five sculptures based on 3D-scans and photogrammetry of existing sculptures from museum collections, to underscore Laric's premise that new is a continuation of what already exists.
After he started with this body of work around 2013, he set to derive appr. 20 sculptural forms, of which, this exhibition shows five essential examples. These pieces are also available for free downloads on his personal website ² since 2012. Conceived as open and editable source material, the forms Laric adopted bridge and connect European naturalist sculpture with ancient precedents from Egyptian, Greek, or Roman origins. By highlighting the provisional status of every sculpture, Laric opens the realm of discussion to all sorts of ideologies and political interests. These sculptures form a vocabulary by which the artist questions the notion of stability particular to this medium, and accentuates ideas of impermanence and fluidity as global and intercultural driving forces undermining distinctions between nature and culture.
The exhibition title "Exoskeleton" refers to the surface-oriented scanning process in which Laric's objects are produced, the shell structures of armour suits in his sculptures, and the protective shields of insects or animals, depicted repeatedly in his videos. An exoskeleton marks a threshold between inside and outside, life and death, on a philosophical level, between form and content. This term also seems appropriate to describe the production process of this exhibition, which arrives at an end through the collaboratively produced "Exoskeleton" from which the show would develop its specific external and internal form.
Curator Martin Germann
_______________________
² All 3D models on Oliver Laric's personal website (threedscans) are available to download and use, and free from copyright restriction.