On December 27, 2020, the opening forum of Refocusing on the Medium: The Rise of East Asia Video Art was presented with speakers participating both physically and remotely. As global travels became increasingly difficult due to the pandemic, such communication seemed all the more precious. From their practice and experience, speakers shared their insights and reflection centering on key words of the exhibition titles, namely "East Asia", "video art" and "medium", casting light on new possibilities for further discussions. More importantly, this kind of discussion inspired audience to revisit and rethink of the medium of video, and to find new verve and perception from the works on view, which were produced decades ago.
Tao Hanchen: First of all, we want to thank Ms. Machan for presenting a profound and systematic review and research of the history of video art at this exhibition. And now I would like to invite Kim to talk about the curatorial structure of the exhibition, including the themes and choice of artists and works. Also, as the exhibition is the topic of her PhD research, I would like to invite her to talk a bit about what research achievements have been made so far.
Kim Machan: The exhibition proposes a re-examination of the artists approach to the video medium rising from East Asia and contributes to the global history of video art as a transnational contemporary art medium. Since the SONY Portapak portable video recorder was invented in Japan in 1965, artists on every continent gained access and have contributed to the development of this global medium. Exhibitions exploring the histories of video art have featured across Asia in the past decade. The cumulative results have enhanced detail and depth to specific national histories laudably expanding an existing world history of video art. The exhibitions and accompanying research expose scholarly accounts of experimental practice and international exchange that provokes a more radical review of the way video art is considered.
This exhibition shows how the rise of East Asia video art developed as a hybrid global art form characterized by conditions of video art's medium specificity in a context of post medium contemporary art practice. As a new technology and experimental artistic medium with distinct characteristics, video art arrived with no cultural traditions, no significant conventions or history – a new global contemporary art tool. This view of the medium gives reason for a recalibration of thinking and reassessment of the contribution that artists from East Asia have made to this still contested history. How did artists in East Asia take up the apparatus of video and experiment with this new global medium and can this change the way we might approach the history of video art?
Beginning with Nam June Paik's entangled Korea, Japan, European and American global art networks, artists from East Asia took up the culturally non-specific medium to enter new points of exchange and equally complex trans-regional and transnational networks. In little more than twenty years the video medium was channelled by artists globally, specifically in Japan from 1968, Korea 1978, Taiwan 1983, Hong Kong 1985 and the mainland of China 1988. Within a brief period first hand experimentation was occurring across the industrialised and developing economies straddling continents and cultures, situating video art as the first global contemporary art medium. In partnership with the Nam June Paik Art Center in Korea, a live stream broadcast of the iconic Nam June Paik video installation TV Buddha, (1974-2002) is projected in the entry foyer of the exhibition. The projection is a provocation to question the video medium within the context of the exhibition – the liveness of the medium, the distortion of time and space, the tension between illusion, reality and authentic experience, the conceptual strategies that subvert the medium, and the dynamics connecting local and global aspirations. Rarely seen outside of Japan, Katsuhiro Yamaguchi's CCTV interactive video installations dating from 1972 evidence his active contribution to emerging international contemporary art dialogues. In this exhibition Las Meninas (1974-1975) that was presented at the 13th San Paolo Biennial in 1975, offers firsthand experience of the complex art experiment incorporating CCTV, six video monitors, and two full-size reproductions of the eponymous 17th century painting by Diego Velázquez making actual Michel Foucault's analysis of the painting in his book The Order of Things (1966).
The exhibition focuses on sculptural and fine art reading of the medium of video activating a distinct way of seeing that is both valuable and empowering because it demonstrates how to deconstruct, question and experience the video art work with holistic consideration of the spatial qualities and the moving image. This contrasts with a cinematic experience dependent on the 'suspension of disbelief' that allows us to be 'transported' ignoring the reality of the surroundings that include the theatre seating, the exit lights, other audience members.This engagement in 'poetic faith' measurably activates the brain differently to the analytical contemplation of an art object, art installation or situation because we have different interpretive and analytical abilities when considering an art work with emphasised attention to the medium. The awareness of these perspectives strengthens our critical independence and abilities to engage in screen cultures more broadly. The artists in this exhibition have profoundly considered the visual language of video with an emphasis on an exploration and development of a specific aesthetic language only possible with the medium of video.
Thank you Zhang Peili, Wang Gongxin, Zhu Jia and Dong Bingfeng for your comments and reflections. I hope that this exhibition will stimulate debate and discussion not only around the rise of East Asia video art but open up discussion about the way the video medium is used in a critical analysis of the medium. I'd like to emphasise video art had no history, no precedent, models or traditions to break with. The ability to record image and audio with instant playback capability along with Closed Circuit TV application, set video far apart from other mechanical reproduction technologies such as the slower film making processes and the still imagery of photography. There were no established training programs and so the medium was a place of experimentation, people to people sharing and new collective exchange – nationally and internationally. This is a global contemporary art medium, arguably it is the first hitched onto the energies and exchange that globalization generated. Because of these conditions, video art has a unique value to examine in the understanding of the emergence of trans-national and cross-cultural art practice.
Tao Hanchen: Thank you Kim for the wonderful speech. I would throw some questions as a lead to start today's discussion with all the speakers. Just now Kim said that the emergence of video art in East Asia was spotted region by region, starting in 1965 in Korean, and then in Japan and China, with Hong Kong and Taiwan seeing its emergence in 1983 to 1985 and the mainland, 1988. Names of the participating artists this time are arranged according to their date of birth; and audience would see that names of Chinese artists appear at the back part of the list, which corroborates Kim's research. In the three major East Asian countries, given the age of artists and the development paths of video art, we should say video art in China emerged at a relatively late stage. The question I would like to ask all our speakers is: what similarities and difference could be perceived from the developments of video art in China, Japan and Korea?
Zhang Peili: I would like to extend my great gratitude to Kim Machan for curating such a brilliant research-based exhibition. In the foreword I wrote for the exhibition, I mentioned that research with a focus on this specific topic was absent in China as far as I knew. And globally speaking, there're only a few people working on this kind of research. But such research is of paramount importance. It raises two questions: Why video? Why East Asia?
From the perspective of timeline, I believe to many people the year 1985 was a year memorable. The "85 New Wave Movement" was ignited by the newly-acquired accessibility of information and art brought about by the reform and opening-up polity initiated after the end of the "Cultural Revolution". And even before 1985, there were new art groups like the Stars Group springing up around the country. But a continuation of the mainstream art media was perceived as traditional language of art such as painting and sculpture was still the main forms of presentation. Abstract works and installations also emerged later, but as we can see, no video artwork was on view at China Avant-Garde Exhibition in 1989. This is really a problem.
And the second question: why East Asia? I'm no expert in this field of study and I'm not sure whether South Asia and West Asia saw the emergence of video art rather later than East Asia. But in the 1960s and 70s Korea and Japan were already industrially and technologically developed countries. Sony was a super multinational cooperation and a pioneer in terms of technological development. And it started to work with artists.
What inspiration could we gain from the above two questions? The emergence of all art phenomena, fundamentally speaking, is about timing. And this timing is related to both the material/technological context and the political/cultural context. The two are indispensable. I also wrote in my foreword that without the previous art movements, or without the "Cultural Revolution", there might still be TV and video appearing in China; but video might only be something screened on TV station rather than something artist experimented with. Back in the 1960s and 70s, there were so many art movements and art media emerging in the west. Why can video art exert its influence globally? In Africa, South America, Asia, and not to mention Europa… video artists, or artists working with both video and other media, are everywhere. Nowadays in many art exhibitions, video has already become an indispensable medium. We can say it's increasingly becoming a mainstream medium. Why is that? I think it contains response and attitudes toward issues such as power, language and artist identity.
Dong Bingfeng: What I'm going to say will be centering around the title of the exhibition. The first thing I want to focus on is "video art" and the second, "East Asia".
In 2015 and 2016, Hong Kong, Taipei and Beijing all presented exhibitions introducing the history of video art in these regions. I believe Ms. Kim Machan knows well about those projects. The three exhibitions were No References: A Revisit of Hong Kong Video and Media Art from 1985 presented by Videotage in Hong Kong, REWIND_Video Art in Taiwan 1983-1999 by Kuandu Museum of Fine Arts in Taipei and Screen Test: Chinese Video Art since the 1980s at CAFA Art Museum in Beijing. The first two exhibitions were presented earlier than the one in Beijing. When the exhibition at CAFA was ongoing, curators and artists of the exhibitions in Hong Kong and Taipei were invited to participate, which laid the foundation for a big framework of the history of video art in China. What kind of conclusions could we draw from the intensive exhibition programme showing histories of video art in Chinese-speaking regions during those two years? Did it mean the history of video art was being more and more valued? Or did it show a rethinking and reflection upon issues like identity consciousness and "subjectivity" in these regions? If a comparison is to be made among the histories of video art in these different regions, what kind of conflicts on the conceptual level would be encountered? I believe it's more than just a matter of art history.
If we broaden our vision further, we'd find that Europe has also witnessed a good number of retrospectives and reviews of video art histories in recent years; to name just a few, 40 Years Video Art.DE–Part 1&2 at ZKM in Germany, Antología: Video Itineraries Through the Spanish Context in Spain and Artists' Moving Image in Britain Since 1989 in the UK (2019) right before Brexit. Last year, Video/Art: The First Fifty Years written by Barbara London was published. It's worth mentioning that the last chapter of this book included video artists from China. Prior to this, Chinese artists' contribution was nearly nowhere to be found in the writing of video art histories in English. In 2019, the National Museum of Modern and Contemporary Art in Korea presented Korean Video Art from 1970s to 1990s: Time Image Apparatus. As we can see, the "fever" around video art histories is not just a regional phenomenon in Chinese-speaking area but a rather global phenomenon. However, the points of departure and contexts of these projects in different regions varied. Some emphasized on the construction of a regional or national framework; and some on cross-border mobility and cross-media experiments. The study of video art history in today's context seems to become a "prominent subject".
The second thing I want to focus on is "East Asia". I've participated in two conferences on video art in Asia since 2015. The first was International Conference on Video Art in Asia: Histories, Aesthetics and Theories organized by Taipei National University of the Arts as an extension project of REWIND_Video Art in Taiwan 1983-1999, in which scholars from mainland China, Japan, Korean and Southeast Asia were invited. At the conference the one thing I felt most strongly was that everyone attached great importance to the video art history in their region or country. Or say, the history made us very anxious. It was the first time that earlier video artworks in the region of Taiwan were studied and restored. I was very much impressed by a scholar from Vietnam when he talked about the history of video art in his country. In mainland China, we felt that the art scene was very dynamic and video art played a quite important role in artistic practice and exhibition; and we didn't feel the urgency to review our own history of video art. What exactly does the urge for reviewing video art histories mean in Asia?
In 2017, one year after that conference, we had the opportunity to curate Camera in Action: Asia Moving Image Forum at the Goethe Institute in Beijing. We also invited scholars and curators from China, Japan, Korean and Southeast Asia as well as organizations specializing in documenting video art such as Video Bureau. It's interesting that at the forum in Beijing, I found that people were not very enthusiastic about histories. Instead, it was obvious that scholars and fellow practitioners in Asia focused more on politics and they tackled the topic in a very realistic and straightforward way. For instance, the head of SeMA Biennale Mediacity Seoul said that the theme of the biennale was to protest the Korean government. Back then the sinking of Sewol resulted in widespread social reactions in Korea, and artists and art museums decided to take concrete actions to voice their opinions. In Southeast Asia the situation was similar. Speeches by scholars from Southeast Asia rethought and reflected upon the development of visual art in the region and how moving image shaped and controlled its audiences and people in broader sense. History and geopolitics became the focal points. That's why I found the forum in Beijing interesting. It seemed art today must respond to the concerns of the reality world and could not merely stay within the realm of art practice and research.
Today in Shanghai we once again put forward the concept of "East Asia". But does this "East Asia" refer to a "region" in the geopolitical sense, or the "region" under the influence of Confucian culture since modern times, or the highly unbalanced status quo and varying social issues faced by contemporary art in East Asia? Moreover, it also contains another dimension. If we see under the framework of the "East Asia" in recent years, we'd confess that the relationships between China and Japan, China and Korean, Korean and Japan are very complicated. Under such a historical and realistic context, should the study of video art history take the complicated "East Asia" background into consideration? If we believe artwork must contain artist's reflection upon the society and culture of a specific period and such reflection would be embedded in the ideology of the work, then the practical significance to probe into a group exhibition of video art in East Asia would become urgent. It's more than just a review and comparison of historical developments. I look forward to more academic discussions and research exchanges after the opening of the exhibition. Thank you.
Wang Gongxin: The first thing I'd like to say is that I feel like I'm at a quite special position today. Due to the pandemic, all the other participating artists as well as the curator cannot come. I'm the only one who is physically present. I'd feel under pressure if I were considered a representative. I need to declare that the only person I can represent is myself.
As to the historical development of video art in East Asia, as an artist, I want to say I explore the medium and moving images on my own, and I don't think what I do is to create the history of video or make contribution to the history of video art in East Asia. What I value more during my practice is why I chose to work with this medium in mid-1990s. To me, this is very important.
The reason for me to choose this medium was primarily out of curiosity. I was trained in the traditional art academy system, with a focus on plastic arts and how to present art in a realistic way. I arrived in New York in the 1990s and got the opportunity to immerse in artistic ambience of the city. Gradually I started to think about how to build a direct connection between my art and the present that we all lived in. It was at that time I met Kim Machan. I think Kim also remembers that in 2001 I got a chance to participate in a new media project in Brisbane for about two weeks. Kim was there too. I was quite excited to see her there. Over twenty new media artists from all over the world participated in the project. Besides presenting the works of our own, we also needed to give an introduction of new media art scene in our own countries. I showed them images and videos of the exhibition presented in 1996. Kim was surprised, telling me that she had been told there were only one or two artists in China working on video art. I told her that's not the case, as you could see from the exhibition, there were quite a few artists working on it. For instance, Zhang Peili started to working with video in 1988. Kim and I have remained good friends since then. That's why I feel particularly touched today. Kim has been closely following the development of video art in China. There's been good communication and collaboration between us. For all these years she has worked on many projects in China and also presented solo exhibitions of Chinese artists like Zhang Peili and me at her space in Australia. I want to stress that I think about video as a medium more from the perspective of my own artistic practice rather than the history and development of video. My curiosity towards this medium promotes me to think about building a connection between my artistic language and the context we live in through the language of video art. To me, the reason to pursue it is simple.
I'm very grateful to Dong Bingfeng and Kim for having done so much and profound research in this field. Yesterday when I came to see the exhibition, I felt it was really a precious opportunity for me to take a close look at the work I created over 20 years ago, and to see how I initially used this medium. Moreover, Kim's research of the earlier video artworks by East Asian artists helps me to rethink this visual language and tool.
Tao Hanchen: Zhu Jia is both an artist and the co-founder of Video Bureau, the organization Dong Bingfeng just mentioned. I think you have quite a lot to share with us, right?
Zhu Jia: There're quite a lot of things I want to say. Actually prior to this exhibition, I haven't really thought of video art in a systematic way. During her research and the preparation of this exhibition, Kim constantly raised questions for artists. Many of her questions were very specific and pertinent, and pushed me to look back upon this history. About ten days ago, I read an article by Zhang Peili on video art exhibitions in East Asia. I believe how people feel and think of it varies. To me, it presented a new perspective and cast light on Zhang Peili's contribution to the promotion of video art in China in his role as artist. Moreover, he also cultivated a younger generation of artists. I think he has put a lot of thoughts into this medium. He wrote "camera is certainly important, but what matters even more is the one who operates it". I think it opened up a new perspective for us artists. Geographically speaking, Korea and Japan are Asian countries; but their social, political, cultural and industrial processes of development are more similar to the west. In mainland China, just now Zhang Peili mentioned camera was introduced quite early but photographic art was never considered a trend. In this regard, the development of video art after the implementation of the reform and opening-up policy was not merely a technical matter but actually a result of development of social culture and of the "85 New Wave Movement". The influence of the somewhat sporadic practice of video art during this period on today's art scene, I believe, is a topic worth probing into and reflecting upon.
Tao Hanchen: Kim, how would you like to respond?
Kim Machan: I want to say a few things about the take up of video. First, there is always an emphasis and often an apology about the linear order in which history is made, who was first and who was second to make a type of work or innovation in art, but we can think about video art in a different way. Because it was a newly invented medium that had no established conventions or history it was taken up by artists as an experimental medium with very open possibilities. This happened in a relatively fast time, in little over 20 years this new medium had landed in most continents of the world between –1968 and 1988. What I'm suggesting is that everyone was experimenting with the medium, there were no rules – when any artist picked up the video camera in New York or twenty years later in Hangzhou it is a similar situation. Secondly, with the history of Asia video art (East Asia and the rest of Asia), there is always talk about who influenced who and what artworks an artist saw, or what artists they saw. But in the history of video art in America and Europe, they don't do this, they don't say, for example 'Bruce Nauman went to London and saw David Hall's video work' or 'Ulricke Rosenbach saw Joan Jonas video works', they don't talk about the history in that way, but this is the way video art is often referenced in Asia. Artists, of course influence each other, but that happens everywhere in globe. The last point I'd like to make: we can refresh the usual ways of thinking of video art. By looking at the medium (refocusing on the medium), we can compare anybody in the world at one moment: how they experiment with that medium, how they approach the global medium of video. You can't so easily do that in painting or drawing, you can't do that with other mediums that have hundreds of years of tradition which video doesn't have. So, it's a very unique opportunity. We could use that power to apply new ways of understanding and critiquing, both historical and contemporary video art.
Zhang Peili: I think some very important issues have been covered in today's discussion; and while listening, I thought of something. I think the development of video art in China has several features, and one is the openness of information. I haven't made comparisons between China and Korea or Japan. But I know many Chinese artists had never watched any original video works by western artists when they started to work with video. When presenting exhibitions or giving lectures abroad, I was often asked whose works I had watched before I started to work on those body-related works. Bruce Nauman maybe? I wished I had; but it was simply impossible at that time. In the 1990s, we didn't have the chance to go abroad and works by foreign video artists didn't have any opportunity to be presented in China. Many artists faced the same situation like me, including Zhu Jia. When you worked on Forever in 1994, you hadn't gone abroad right, Zhu Jia?
Zhu Jia: No, not yet.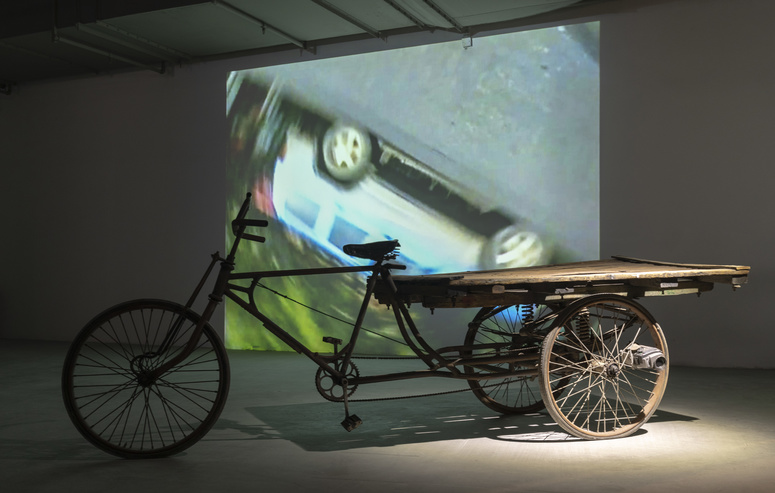 Zhang Peili: Back then we started to get to know about modern artistic concepts and new art forms including video art. But what was really going on with video art was beyond our knowledge. We were under a mixed sources of influence from philosophy, literature, drama, film and music. As a matter of fact, influence from western video art on Chinese artists was relatively weak. Of course, influence from Chinese and East Asian artists on their western counterparts was and is even weaker.
It was until the end of 1990s that western curators and artists began to see video artworks by Chinese artists. An exhibition featuring Chinee video art was presented at Jack Tilton Gallery in New York. MoMA curator Barbara London paid a visit to China after she saw the exhibits on view. Barbara spent a few weeks in China, and visited many artists in Beijing, Shanghai and Hangzhou. When she was in Hangzhou, she told me that she hadn't even known there was video art in China. I think this was something different from the situation in Korea and Japan as those countries had steady and consistent communication with the west. Their artists could go abroad and western artists could come.
A major feature of the video art in China from 1980s to 90s was artists' proactivity. They went ahead of the overall system of art education. When the "Cultural Revolution" came to a halt, the education at art academies mostly centered on traditional media and placed an emphasis on "revolutionary realism". The purpose of such art education was pragmatic: to foster artists to serve the needs of propaganda. The "85 New Wave Movement" afterwards seemed to be against the mainstream and the various restrictions on art that were previously imposed, and to strive for freedom and individuality of artists. However, it emphasized more on the gaining of political power and equalization of power; and in terms of the language of art, it didn't make genuine breakthrough. I often joke that the situation back then was like a "peasant uprising": it was against the emperor but not the imperial power system. In other words, when power was gained a new emperor rather than a new system would emerge.
Another feature of video art is its accessibility, which lays the foundation for its wide spread and acceptance all around the world. Its language is very accessible and intuitive. And this medium can be accessed by virtually all people. With the popularization of smart phone, recording and releasing a work becomes all the more ordinary and accessible.
One more thing, Chinese artists basically worked all on their own when experimenting with video in the 1980s and 90s. Take Wang Gongxin and myself for instance. When we started to work with video, we never share our thoughts and practice with each other. There was no such thing as a collective. People work independently and separately. For example, Wang Gongxin made his experiments in Beijing, and I, Hangzhou. Even for artists in the same city, like Geng Jianyi and me, we worked on our own too, never having discussions on works in progress, and only getting to see what the other was working on when a work was completed. In this regard, it was different from the "85 New Wave" and demonstrated the pursuit for individuality. I only wish Li Yongbin, who is the very first artist in China to work on video art, were here with us today.
Wang Gongxin: Personally my experience of the late 1980s may differ from many other Chinese artists because I went to study in the U.S. in 1987. I vividly recall that on the third day upon my arrival in New York, senior artist Zhang Hongnian took me to visit a prestigious "national art exhibition". And that was the Whitney Biennial. There I saw installation combining TV and sculpture togetehr. I was simply surprised, bemused by such an installation. Just now Zhang Peili mentioned the source of influence. I had access to the exhibition scenes at a very early stage. I was physically there to witness. But it was totally beyond my understanding why such thing could be called art.
I didn't produce any video work until I went back to Beijing in 1995 and my first video work was entitled The Sky of Brooklyn. What I want to demonstrate through my own experience is that I didn't choose this medium because of its unconventionality. Rather, I chose it out of a deeper understanding of art and the aspiration to develop an artistic language of my own. In 1995 when I used TV in my practice for the first time, I found the language of video art opened up more possibilities for me. And it could develop along with the updates of technology, and echo with the living conditions of people in a more pertinent and intuitive way. That's why I started to work with this language more and more often. It was not the tool but the language that made me very excited and ignited the passion for creation in me.
Q&A
Q1: The curator is not from Asia. Then why are you interested in video art in East Asia? And from what perspective do you interpret it?
Kim Machan: I've always been interested in Asia through family, friends and a love of travel. Before arriving in Europe, I spent nearly a year in South East Asia before three months in China in 1983. My interest in art and video art landed me in a job as a junior assistant working in the ORF Television 'Videonale' in Vienna, Austria in 1984–85. In that job I was actually preparing communications for my boss to Barbara who was already internationally recognized as an expert in the field at MoMA New York. I was exposed to a lot of video art, met Nam June Paik and Shigeko Kubota, Vito Acconci amongst others, and also saw many video art works from Japan. Moving to Brisbane, the Asia Pacific Triennial contemporary art exhibition seemed to be a great opportunity to compliment with a focus on media art in Asia. In 1998 I was part of a team that established MAAP Media Art Asia Pacific. That's now over 20 years of exploring curating researching in Asia and the diaspora. That's it in a nutshell.
I think I pick all video art—whether it's from Asia or the West—in the same way. I look at how the artist is approaching spatially and how they approach time. Basically these two things are the essence of being able to read the aesthetics of video art. I look at the medium and I look at how the artists approach that medium. I think video is unique in that way. You can't really do that in the same way as painting or other art forms that have long traditions. Video is special with the coming of globalization at the same time. It seems every body wants to be part of this global network of art.
Q2: Is there any connection between the urbanization in China and video art?
Wang Gongxin: My answer to that is simple. The connection is for certain. Today if someone loses his cell phone, he'd immediately feel his normal life affected and loses a sense of security. People are becoming more and more dependent on new video medium. As artists, we need to express our artistic concepts and visions through language closer to the life and context we live in. I think the connection between the two is beyond doubt.
Zhu Jia: The emergence of many things in China, I think, often feels primitive and hard to be described by words. For instance, we talked about whether video art was under the influence of the west. And when I tried to trace the origin of influence, I agreed with what Zhang Peili said. The influence didn't just come from the medium of video art. Instead it came from a mixture of sources. With the emergence of so-called "reading fever" in 1980s, many Chinese traditions were rediscovered and revisited, and a lot of western works were translated and published in China. In the meantime, pop cultures like pop music were also introduced. Teng Li-chun, Liu Wen-cheng in the 1970s and Beetles, Wham! in the 1980s all had far-reaching influence, which could be seen in the New Wave Movement in a variety of forms. Whether the development of video art was more influenced by urbanization or the need for cultural openness, it's an issue worth probing into before any concrete conclusions can be drawn. What's for sure is that video art is the natural and inevitable result of the development of cultural globalization.
Zhang Peili: Urbanization is probably the most prominent sign of modernization. You may still recall when the goal of "Four Modernizations" was set forth, propaganda posters that we saw on streets all featured high rises, overpasses, rockets and airplanes. Understanding of the notion of modernization in China and west varies. But as far as I'm concerned, the most important element of modernization is the system's control over people and influence upon people's life. Man becomes a part of the system and what remains personal becomes less and less. I think it's a highly contradictory state. Modernization is an inevitable trend that cannot be stopped; and many are sincerely longing for it as people always hope that life could be getting better and better. But it's not necessarily the case. Few people would realize that everyone would have to pay for the benefits of modernization. The pandemic is one the prices. We are at a quite awkward intersection, not knowing where globalization would lead us.
I think many artists who choose to work with video are faced with such a contradiction. Back in the 1980s, we were against artists who tried to tell the stories of China through painting, Tibetan subjects or rural themes. We believed the most important and unavoidable thing was the reality we lived in and our personal experience. It felt a bit "indifferent" if one resorted to Tibetan or rural subjects as it felt somewhat post-colonial and could not demonstrate people's true concerns. In other words, it was a bit flattering as you were "showing off" what you thought would be appreciated and accepted by the western world. That's why the "85 New Wave Movement" as well as the later "Pond Society" placed an emphasis on experience of the present and urban life.
Text proofread by the speakers