Barbara London, curator, art historian, and author of Video Art, the First Fifty Years (Phaidon 2020) joins in conversation with Kim Machan, curator of Refocusing on the medium: the rise of East Asia Video Art.
In response to the exhibition, Refocusing on the medium: the rise of East Asia Video Art, Barbara London will reflect on her early research tours and engagement with the artists contributing to the emerging field of video art, in and from Japan, Korea and China. Beginning with her early encounters with Nam June Paik and Japanese artists living in New York in the early 1970s, London will share a fascinating history she experienced firsthand in her official role as curator at the Museum of Modern Art in New York, and through her innate curiosity and passion to know more. Her first Japanese research trip, inspired by conversations with Bill Viola about his experiences in Japan, led to exhibitions and acquisitions for MoMA including the touring exhibition Video from Tokyo to Fukui and Kyoto. Research in China in the mid 1990s to seek our media and video artists resulted in an experimental live blog Stir Fry, a prescient project that initiated beta online projects for MoMA and is still accessible today. London reflects on her travels in China, meetings with artists, and experiences of the creative networks exploring media and video art.
Barbara London's personal anecdotes bring to life not only her professional career as a curator and researcher in video art, but also a personal journey spanning more than fifty years witnessing the rise of the new medium of video art across the globe.
This online lecture will be accessible for both domestic and overseas audiences. Please select your choice of watching according to your time zone and language.
Video/Art: The First Fifty Years:
Barbara London in conversation with Kim Machan
Kim Machan:
Barbara, can you tell us about your engagement with East Asia, from your early curatorial research in Japan, Korea and China? What was your approach?
Barbara London:
In my book, Video/Art, the First Fifty Years, I go into some detail about my connections to Asia. It all began here.
I met the artist Nam June Paik very early in my career. We actually met on a bus in 1973. He was a smart, wonderfully mischievous man. He had an impish smile, was brilliant and very well read. In fact, he read everything he could get his hands on in Korean, Japanese, German, and English. He studied aesthetics at Tokyo University and embarked on a career in music. He moved to West Germany to study in the late 1950s. What we don't often realize is that even though artists didn't fly around the world sixty years ago the way they did up until COVID, they actually did move around quite a bit. Back then, Nam June was based around Cologne.
In this slide, he is doing a performance at a lively venue in Stockholm called the Fylkingen Electronic Music Center. Around then he once noted, "Germany, in 1958, was a superficially serious culture of postwar middle-class art and music. It was quite stifling. Suddenly, here were John Cage and David Tudor's lightweight lyricism, which was really fresh."
He embarked on a number of wonderfully inventive, interactive pieces. He took detritus, basically discarded material: an old shoe, a tin can, a key. He made a sound work out of the objects. At the time, the viewer would have been able to go up and touch the parts and make a little music performance with the materials. A few years later when he was asked, how did you learn video? Paik replied: "I invented it. I finished with electronic music. Therefore, I had to do something. I was neither a good painter nor a sculptor, neither a good composer...There was no competition at that time."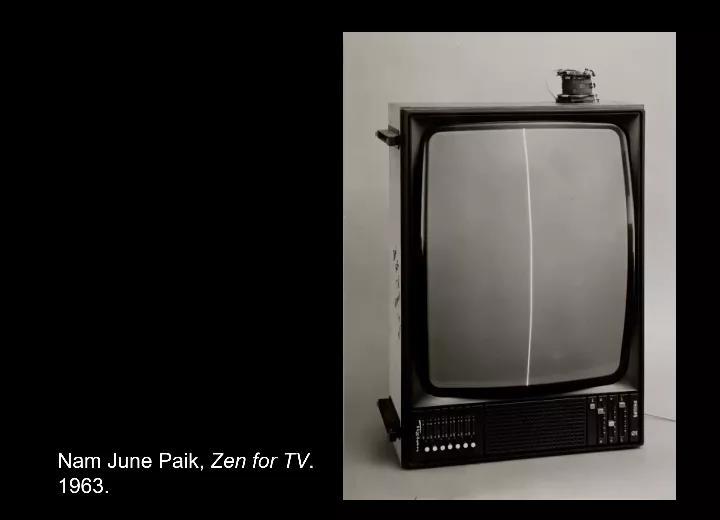 In 1963, he was in Germany when he started to tinker with old analog TV sets. By that point there was a middle class in Germany, as there was in the United States. People who had bought TV sets in the late 1950s, were now upgrading and buying new ones. Paik picked up the discarded old TVs, tinkered with their insides, and created witty sculptural objects. Here we have a TV set turned on its side, and he gives it the title Zen for TV. He manipulated the insides, so that just a few scanlines are illuminated on the screen. On seeing this some people might say: "Oh, Paik was very much into spirituality," or "He practiced Zen." I think he was clever and witty, and a very curious person who liked to twist things. Normally a TV set is spewing out information coming from broadcast programming, but Paik has reduced it down elegantly to a couple of scan lines.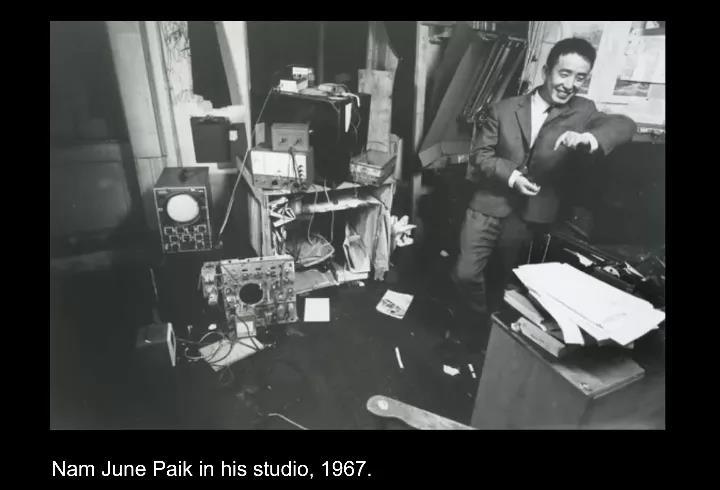 This is Paik in his studio, after he had moved to New York. His studio was always messy, full of old machinery and things that he had taken apart. He was fascinating to me. I started to make regular studio visits around 1973. Often, I would visit his and Shigeko Kubota's loft, where I would meet their friends—Japanese artists and musicians, such as Yasunao Tone, among many others.
I worked at MoMA for forty years. I like to show this slide of MoMA from a long time ago in the 1930s. In the upper righthand corner is a small sign, "ART IN OUR TIME." This is a major challenge for an institution and its curators. How do you keep up and how do you handle the here and now along with the past? And how are you going to handle the future? It's an enormous undertaking.
I was very fortunate to be at MoMA starting around 1970, because MoMA really looked at the entire world. It considered art created in Europe, in North and South America, and somewhat less at art in Asia, which is something I was fascinated with. These are the catalog covers of two very important shows that did consider art and technology. The exhibition "The Machine as Seen at the End of the Mechanical Age" included a Nam June Paik sculpture and a single-channel videotape. The "Information" show featured the work of international artists who explored media and communication theories.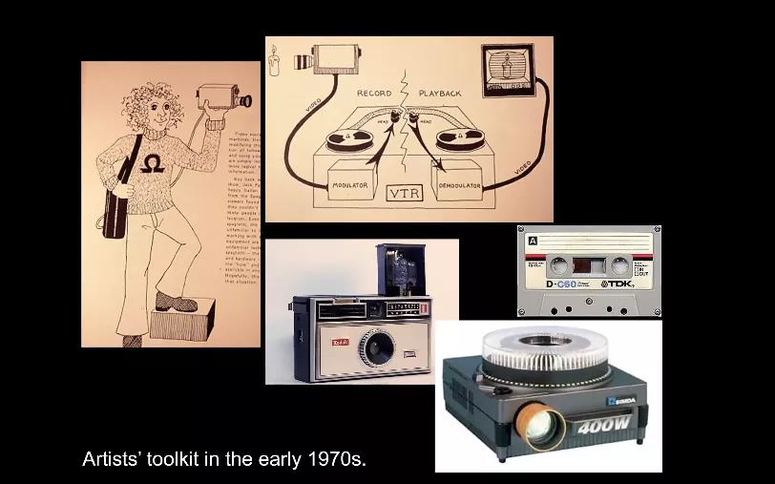 I show these images to give a sense of artists and tools in the 1970s. The earliest equipment included slide projectors, consumer photo cameras, audiotape and portable reel-to-reel video gear. Videotape then had to be threaded through a machine, which meant that a curator like me, with a minuscule staff, couldn't put that playback machine in the gallery and stand there all day to rewind and rethread an artist's open-reel tape. At MoMA we had one open-reel unit, which enabled me to preview artwork that artists submitted. I'm just showing this equipment in order to explain that in the early 1970s artists were using the instamatic camera, they were using audio tape and they were using slides sometimes for installation work.
How did information get out? Artists pulled up their socks, raised the money and published their own magazines. Radical Software was one.
In 1971 when the 3/4-inch cassette reached the consumer market, Sony and Panasonic and other electronic companies all came together and agreed to put one video cassette format on the market. This is what allowed video art to take off. Then a curator like myself, or someone like Kim Machan, could arrange an artist's work on one ¾-inch video cassette, then for an exhibition would put that cassette into the playback machine. You would hit the "rewind" button, and then the artwork would run all day. The playback machine took care of itself. I called the playback deck a tape-eating machine, because sometimes the tape would jam and be destroyed.
This is the cover of the Spaghetti City Video Manual. The book was a way that artists shared difficult to find technical information about recording and editing a video.
These are images of Nam June Paik and his wife Shigeko Kubota. On the left, Paik may be standing in the Howard Wise Gallery in Manhattan. Paik was a great friend and a colleague. He helped me and MoMA obtain a grant from the Rockefeller Foundation, which allowed me to work basically non-stop on video. Up until then, I had been a junior curator in the Department of Prints and Illustrated Books, which is where the video program actually started. Sometimes I say to younger curators, you have to take advantage of what's available. You always have to keep your administration informed, so you're able to move ahead.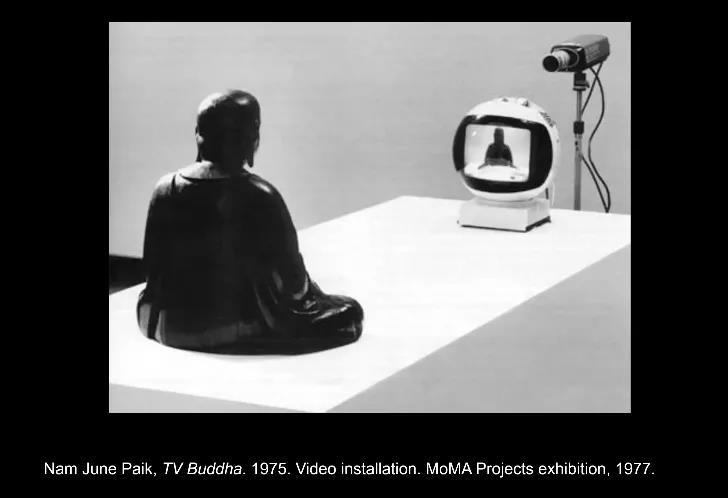 In 1977, I presented Paik's TV Buddha in the MoMA Project exhibition series. It's a sculpture of the Buddha, who looking at a very futuristic TV set. On the TV screen is the Buddha's own image, which is live. The work is much like a video koan that asks: What's the difference between a live and a pre-recorded image? I think a lot of artists at that time in Europe, in the United States and Canada, some in Latin America and in Asia were thinking about cybernetics and were asking themselves, what is the present? This included Paik and Bill Viola, who I also met around 1973. Viola was another very important artist to me. I considered both artists as my teachers. I have always learned from artists. At MoMA I always had an open door, and would meet with artists coming through New York. They generously gave me access to the latest information.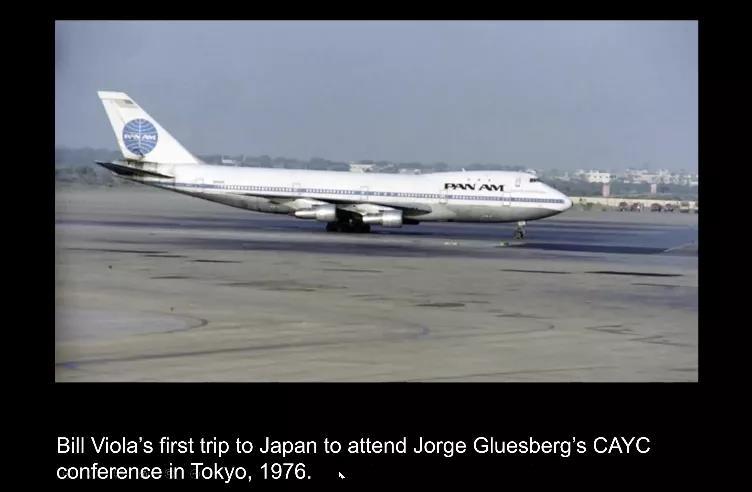 This slide is meant to be amusing. Bill Viola went to Japan for the first time in 1976. He returned very enthusiastic about the artists he had met in Tokyo. This lit a fire under me to find a way to get myself over to Japan.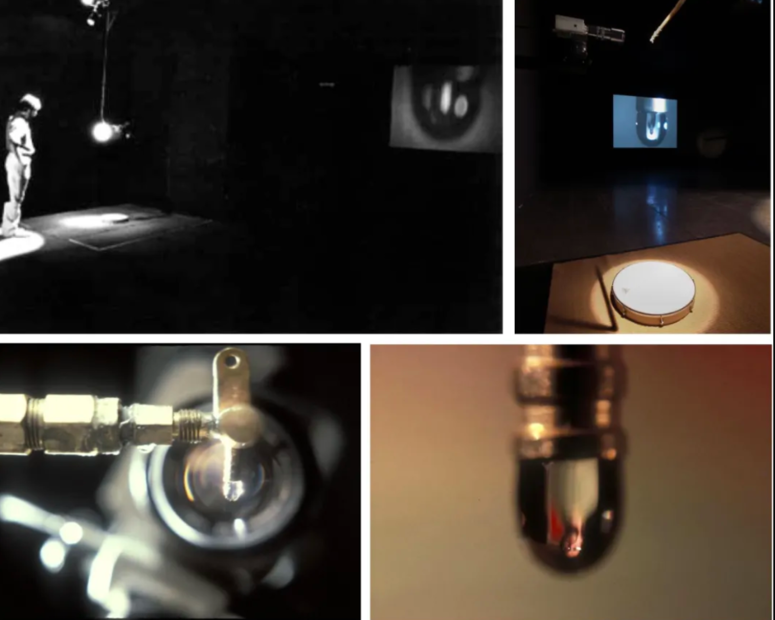 I was very lucky. I presented Bill's 1976 installation, He Weeps for You in MoMA's Projects exhibition series. The work is very much about what is the "present". The installation includes a camera aimed at a drop of water, which functions as a lens. The large, live image of the drop is then projected on an adjacent wall in the darkened gallery. The drop contains the viewer's live image, which is seen live and upside down in the projection of the drop. The viewer sees the drop slowly, slowly expand, and then suddenly it falls and hits the little drum below, which makes a very, very loud noise because an inconspicuous microphone is under the drum. Bill described the work as a tuned environment. Viola, like Paik, had one foot in music and one foot in a visual practice. Both of them were tinkerers, and really worked with the electronic signal, experimenting and figuring out what the electronics were. Remember, the technology was all very new to artists, who had only recently gained access to consumer video equipment. At the time, television stations did not really allow artists into their broadcast production studios.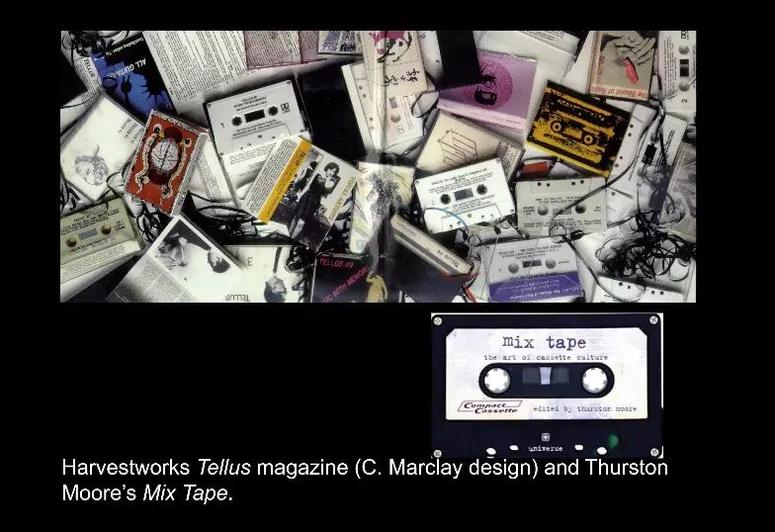 But how did artists find out about each other? That's another issue. They could put a videotape in a little mailer, and send it off to somebody programming in Tokyo, or somebody in Tokyo could do the same. I think that's how we shared information. The same thing happened with audio, too, when the audio cassette came on the market. I love all kinds of music, and I would go to hear everything—the Punks, Alvin Lucier, Yasunao Tone, Yoko Ono, Richard Hell, everything.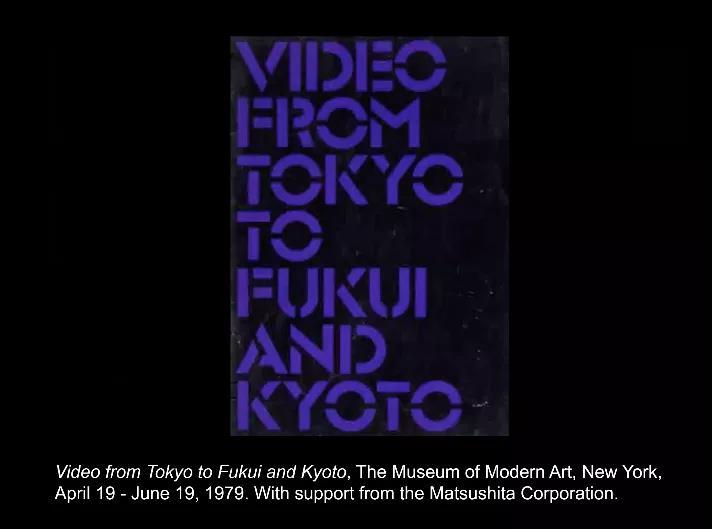 I obtained a travel grant from Matsushita, and that is how I made it to Japan. Before I went, Viola sat me down and gave me advice over a sushi dinner. With the five-thousand-dollar grant, I traveled to Japan, where I spent three weeks. I met 35-40 artists, selected work, returned to New York, put together the show, published a catalog, all for five thousand dollars. With MoMA's International Program, we were able to send the show to 15 other museums. So again, it evolved out of my energy. My energy and commitment is similar to Kim's. If you're so committed to what you're doing, you always find a way. That's a long way around explaining how I became interested in Asia.
Kim Machan:
Just on that exhibition, Video from Tokyo to Fukui and Kyoto, when you showed it in MoMA, how many monitors was it shown on? How did you present that work?
Barbara London:
Thanks for the good question. I organized the early shows and presented them in a very small gallery at MoMA. I was very happy because the video gallery was listed on the MoMA floor plan. If the public entered the building, video was on the map along with the mention of work by Picasso and Matisse. Along with the travel grant, Matsushita gave the Museum two monitors and a playback deck. In the small gallery, the visitor was able to watch a video work on one or the other monitor. Each exhibition was arranged in a program, and I would put the schedule and descriptions of work in an extended label on the wall adjacent to the entrance. Someone coming with interest in video would say: oh, I want to see the work of Mr. Katsuhiro Yamaguchi, and they knew that it would be playing on a particular day at a certain time. Hopefully they would come back if the tape wasn't on view that day. The catalog for Video from Tokyo to Fukui was sold at a very reasonable price in the bookstore. It's now available as a PDF online.
Kim Machan:
How did that integrate into the collection? Did you start bringing those works into the collection straight away?
Barbara London:
That's a good question, too. I had the support of several wonderful people — Mrs. John D. Rockefeller III and a number of others. Initially in 1975, we had modest funding to acquire five artist videos. At the time, I was still in the Department of Prints and Illustrated Books, so the first video acquisitions came in through that curatorial department. Eventually the medium of video migrated over to the Department of Film. That's a long story and is in my book.
So, moving on, after I presented Video from Tokyo to Fukui and Kyoto at MoMA and circulated the show to 15 international museums, I asked the Japanese artists if they would graciously donate their work to the collection. Normally, I did not do that, because I did not believe in asking an artist to donate work. I believed that an acquisition should be paid for. That's why I worked very closely with donors like Mrs. Rockefeller, and my curatorial colleagues including Riva Castleman, in the Department of Prints and Illustrated Books, and Mary Lee Bandy in the Department of Film, to raise the necessary acquisition monies.
Kim Machan:
You were really expanding the collection to be looking for ways to open it up to other regions. So how did that play out in other non-western ways?
Barbara London:
Very definitely. I certainly went to Europe for conferences and to do research, and had my eyes on Europe. My curatorial career at MoMA actually began in what is called the International Program, the department that organized and circulated collection shows abroad. I worked on several contemporary shows that went to Australia, and a few that went to Japan. This may be seen as the start of my commitment to developing an international exhibition program for video. Most of my MoMA curatorial colleagues were very interested in Europe, and I was too. In a way because a lot of the video equipment that artists were using in New York was manufactured in Japan, I really wanted to go to discover what artists were doing there. Once I had been to Japan and organized that show, I was invited back for conferences. Actually in 1981, Mr. Yamaguchi invited me to a conference in Kobe. Then I embarked on another research trip and organized a second show that explored the next generation of Japanese artists using video. At that time, Nam June helped me get a grant to leapfrog from Tokyo to Seoul to explore contemporary practice there. It was during the military dictatorship, when there were no taxis, and I had to yell out to ask a citizen to please take me somewhere. This is how I found out about work, through travel and through hear say.
If Asian artists wrote or called me from New York and said "I'm in town" from Fukui, Seoul, or Beijing, I would of course meet them because that was an opportunity to get to see work and learn about it. I guess it was from those very early days, I was committed to Asia. I have to say it all began through artists sharing information, starting with Nam June Paik and Bill Viola.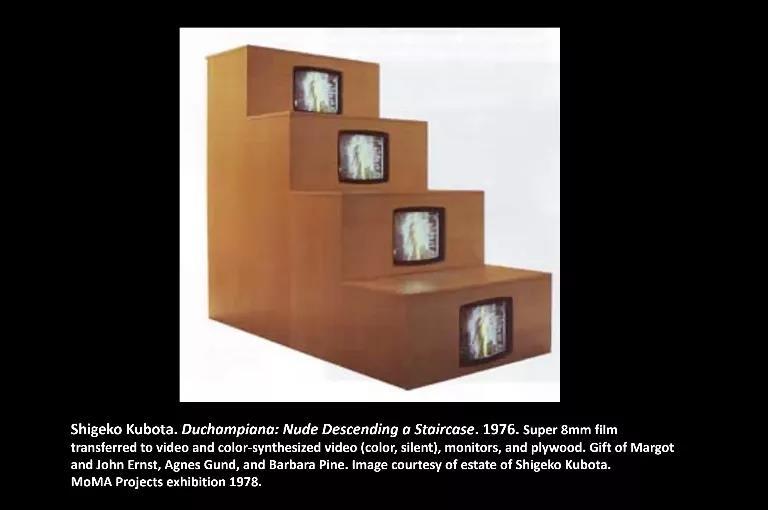 Early on in my career I met Shigeko Kubota, who had studied sculpture, but also did performance. She arrived in New York, I think, in the late 1960s. She partnered with Nam June Paik in the early 1970s. She had a very good eye for space and object-ness. One day she told me about her work, Duchampiana: Nude Descending a Staircase. It's a play on Marcel Duchamp's painting entitled Nude Descending a Staircase of 1912. If you look closely at Duchamp's somewhat abstract painting, it's full of action and portrays a female nude walking down a staircase. Kubota shot her nude in super-8 film, which she transferred to video and then colorfully manipulated the image. Four monitors inserted in the risers of a plywood staircase display the video. The wonderful, now deceased artist Al Robbins built the plywood staircase. The work is a harmonious blend of manmade and natural materials. We exhibited the video sculpture in 1978, and several years later it entered the MoMA Collection. In the credit line you can see there are multiple donors, because it took time to raise the money for these installation video works.
Kim Machan:
In fact, Shigeko's work is the first video sculpture to go into your collection.
Barbara London:
Shigeko was very proud that her sculptural work entered the MoMA collection before one of Nam June's did. It took me many conversations with trustees and with curatorial colleagues about this very sculptural work. The in-house discourse revolved around which curatorial department would be responsible for this video sculpture in collection. At this point, I was part of the Film Department, because video and film are time-based moving images. Because Kubota's work is very sculptural, it entered the Department of Painting and Sculpture. It's a long, complicated story.
Kim Machan:
The networks are really interesting, I did read that Shigeko Kubota had an exhibition in Japan that Yoko Ono actually attended, and encouraged her to go to New York. So, it wasn't the Nam June Paik kind of trajectory, though I'm sure he was also a great example, but it's really interesting how these artists weave back and forward.
Barbara London:
That's a good point, because I think Yoko Ono is actually a very generous soul. At that point in the early 1960s, she wasn't the star she became. I believe Ono and Kubota may have met at the Sogetsu Kaikan, a lively venue in Tokyo, where a lot of interdisciplinary artists performed and met. That's a major point about these artists that you and I have worked with—which is their interdisciplinary approach, and that there was no fixed boundary between mediums. Their practice was really about ideas, and working with the medium that was appropriate to those ideas. Also, artists really helped each other technically. They might operate the camera for each other, help with editing, or perform.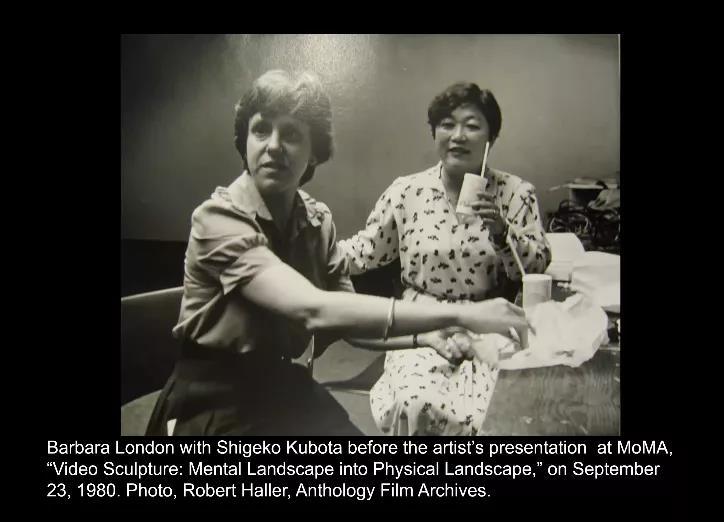 This is a photo I discovered recently, of me very young, and Shigeko looking very beautiful. Through a grant from the Rockefeller Foundation, I was able to start what I called the Video Viewpoints series, whereby artists came to MoMA to present and discuss their work. Shigeko's program was entitled "Video Sculpture: Mental Landscape into Physical Landscape". She herself was also quite generous.
Now we jump forward a few years. Technology has always been an interest of mine. I'm not an engineer, I learn from artists like Shigeko. I never feel ashamed of asking technical questions. I believe one has to. They might say I'm a dummy, but at least they explain how they made a work. In the late 1970s and early 1980s, I took a number of video production courses, and learned how to do simple editing. I also took a course with a fancy computer animation company. For the class, together with several other students, we made a public service announcement for the 1976 bicentennial. So sometimes it's important to really dig in and learn.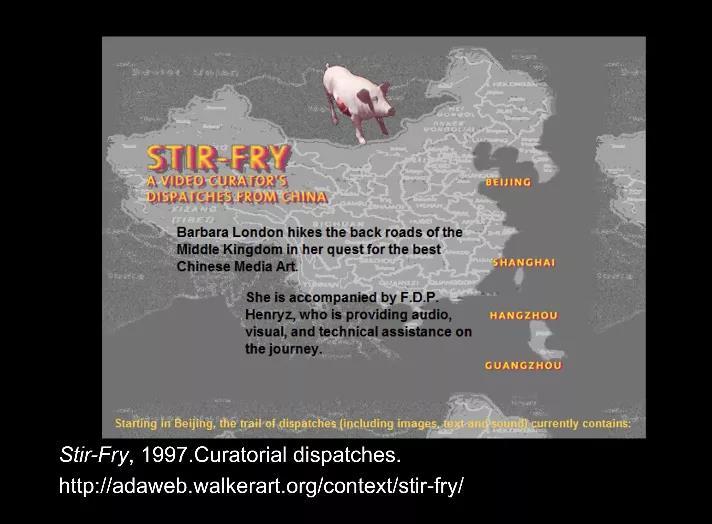 Jumping forward a decade. By the early 1990s the art world was changing. MoMA had gone through one building expansion, and it seemed that everything was becoming more sophisticated in-house, and sophisticated out-of-house. Instead of the early, simple portable video gear, now artists were wanting to work with better equipment, and they achieved that in various way. In the early 1990s, we started to see emerge what we call the internet. Two fellow curators and I encouraged MoMA to put up a pilot website. I was then teaching at the School of Visual Arts, and had one of my students help to the design the site, which the School of Visual Arts actually hosted initially. Then MoMA got behind the website, which now is very sophisticated.
Kim Machan:
That's a pretty remarkable achievement for one person to single-handedly encourage a museum such as MoMA to set up their website, and actually give them content that could be leveraged.
Barbara London:
Sometimes I went to Europe to do research. I would meet interesting German curators, many of whom had recently been to China, an area very few Americans were traveling to. So, I thought, well golly, I want to learn firsthand about the media activity I was hearing about over there. With the help of MoMA's Development Office, we applied to the Asian Cultural Council and I obtained a travel grant to go to China to do research. Normally the research material you generate during travel doesn't manifest itself to the public in the form of an exhibition for years. I thought, I'm not just going to go over to look. So, I got MoMA to agree to allow me to put up my research day by day online in a specially designed website. My husband formerly was a documentary filmmaker. So, on my little grant, the two of us went with a video camera and still camera in a backpack. The daily research I uncovered during studio visits, I was able to compose as dispatches late into the night that went up online the next morning. Every day, the nonprofit group adaweb took my material and uploaded it to the website, Stir-Fry. adaweb doesn't exist anymore, but the website is now hosted by the Walker Art Center. That's another story…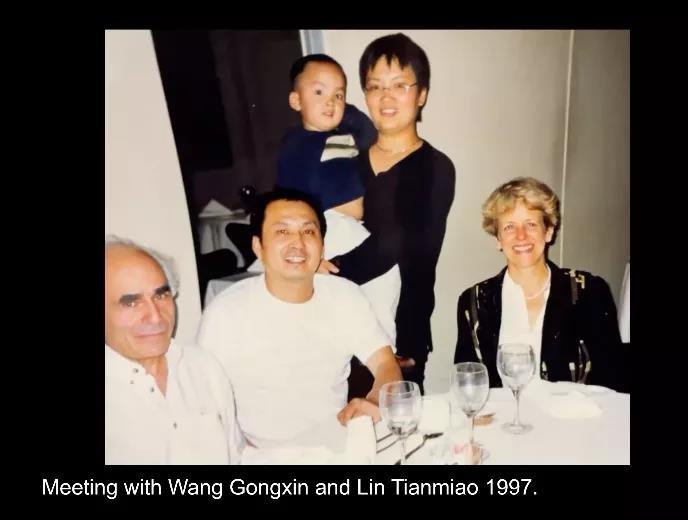 I had the names of a few artists, including Wang Gongxin and Lin Tianmiao. When I arrived in Beijing, they were really helpful and essentially introduced me to the artists who were active with video in Beijing. Every day that first week in China, I met with artists who were engaged with video and with performance. Beijing was not like it is today; taxis were nonexistent. I moved around the city and documented my conversations with the artists I met. The artists in Beijing had no idea what I was doing. Meeting them, I then compiled information every day, and worked at night to assemble a written text and photographs, then was able to put all of this information up on MoMA's website, a project called Stir-Fry. At that point, artists in China didn't know about the internet. So I would invite them into the business center of the hotel where I stayed, and would show them the Stir-Fry website and explain what I was doing. From Beijing, Gongxin, Tianmiao and several others called ahead and introduced me to their colleagues in Shanghai and Hangzhou. Of course, I met Zhang Peili. In Hangzhou he showed me his work in his home, then he helped me send my dispatches back to New York from his friend's high-speed computer-equipped office, someone who was engaged with the Internet. This sped up the process while in Hangzhou. This website was wonderfully designed by Vivian Selbo and it's still up. I'm so happy to say that the 33 media artists I met, most are very active today.
Kim Machan:
Was there any direct outcomes from that visit implications into the MoMA collection?
Barbara London:
Definitely. I raised the funding for the Museum to acquire the three-channel sculptural work by Zhang Peili, entitled Eating. Actually, a year or two before that I had organized a show of documentary video by artists based in China. This included the work of the outstanding Beijing-based documentarian, Wu Wenguang. I think by the time I did my curatorial dispatches, Stir-Fry, I'd organized at least two shows of video by artists in China, but had never been to China. Both of those shows were organized through letters. I managed to get many of those single-channel videos into the MoMA collection. I'm happy to say that video at MoMA was emerging with a stronger position at MoMA.
Kim Machan:
What were your initial sort of responses to the work that you were seeing in China at that time? What was your overall impression?
Barbara London:
I was fascinated that artists based in China were very aware of what was going on in the West. Either a colleague had returned with an art magazine or an exhibition catalog, which they shared with colleagues and friends. The China National Academy of Fine Arts in Hangzhou has a major library with material about 20th century art. Faculty and a few artists there had access to the books and periodicals in the Library. You can say that artists based in China were serious, and they had their own distinct aesthetics, their own conceptual ideas that related to local issues.
Kim Machan:
The kind of conceptual approaches that were being made at the time, you know often it's referred to the techniques were quite rough in the early works in China. But I'd like to ask, what do you think about it in comparison to say someone like Martha Rosler's first videos or Vito Acconci's first videos, that were a very direct and simple use of the medium, but very much the conceptual approach was you know quite evident? Do you agree with that or do you have another ideas?
Barbara London:
If early video in China was somewhat less technically smooth, it didn't matter to me. I was interested in the ideas and the concepts, and where they were coming from, and why they were making a video. I had seen really raw, rough video work that was made in New York in the early 1970s when artists had very basic equipment. I see raw crude work even today, and that doesn't bother me. I'm always more interested in the ideas, and what someone is doing or what the motivation is. Is a work crude for a purpose or because they're broke? How do they see it being exhibited? It always bothered me that when projectors finally became more available and lower in cost, I would see artists slap an image on the wall for no apparent conceptual reason. I would ask, why are you just throwing something on the wall? And what are you doing with the sound? Not every artist has the expertise of someone like Samson Young who is based in Hong Kong and has a PhD in music from Princeton. But an artist really needs to work with speakers and tune the environment. That's what I learned from working for many years with the artist Bill Viola.
For example, I met artists who were making work that may have been simple technically but were clever. They performed simple actions in front of the camera, perhaps did an action outdoors, where they played with the image of that tall Oriental Pearl Radio and Television Tower in Shanghai, pretending to toss it or their camera around. They were questioning a lot of givens. One day I asked Wang Gongxin in Beijing, do you know the Big Tail Elephant group? He said no, but he called his friends in Shanghai and asked. Finally, someone was able to put me in touch with the four Big Tail Elephant artists, Lin Yilin, Chen Shaoxiong, Liang Juhui and Xu Tan. The four really didn't collaborate, rather they would organize shows and present their work at the same time, or would do actions for a series they organized.
Kim Machan:
So how did you hear about the artists?
Barbara London:
I think a lot of my initial information about video activity in China came from curators and colleagues I met in Germany in the mid-1990s. There was one gallerist in Berlin, one whose name is out of my head at the moment, who mentioned the Big Tail Elephant group. As you well know, cities in China are very far apart from each other. Back then, no one had access to the Internet, and only had mobile phones. Some artists in Beijing, Shanghai, or Hangzhou, like Peili, met each other over the years, starting at least in the 1980s. Some had engaged around planning of the 1989 exhibition China/Avant-Garde held at the National Art Gallery in Beijing. Leading up to the show, a group positioning themselves as the avant-garde organized a series of gatherings known as the Huangshan Conference. Back then, a few artists like Zhang Peili found a way to experiment with video. They had started their art careers in painting. It's worth noting that they understood the importance of craft and skill in making art, and they were very idea or conceptually oriented.
Kim Machan:
Yes, how to construct images in new ways, and in the case of video, it was a seen as a medium to break away from the past and break away from the constraints of what those traditions were. So, that notion was played out not only in China and in Japan, but also in the west, it was this moment when everything was cracking away from a high modernist approach to art making.
Barbara London:
That's right. Artists were questioning the art object, so they explored video, installation, performance, and work made outdoors known back then as "land art". There was a certain amount of activity like that in China.
Kim Machan:
I think we can now go through some of the slides from the exhibition. You might be able to comment, that will also bring things back to your networks in New York and also how you view the works in the exhibition. The first work is a live projection that is coming from 3000 miles away, when you were talking earlier about the notion of what is a live image, and what is a recorded image, the projection at the beginning of the show starts to raise those questions, and then ups the ante a little more. What is the time difference in that?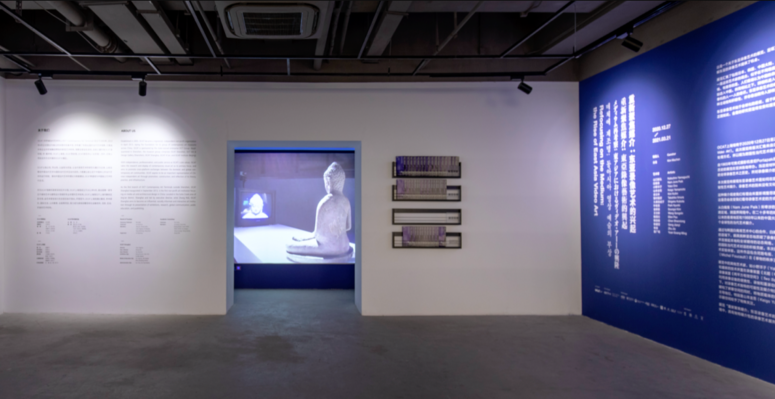 Barbara London:
I think this is a brilliant way to present Paik's TV Buddha. Today it is very costly to ship artwork from country to country. You dove right into the germ of the show's ideas with this artwork, which, as you said, is "live" video and is about "now". I think it's really a wonderful first work that the visitor encounters. The installation encourages the visitor to read, and really think about the ideas behind the works in the show. And initially, someone maybe isn't going to realize that the image is live.
Kim Machan:
We tell them. But there is also doubt whether this really is live or recorded. At the first moment of the exhibition questions are raised about the medium and what we are really seeing.
Barbara London:
The original iteration of the TV Buddha was acquired by the Stedelijk Museum in Amsterdam. If and when the visitor experiences the actual sculptural work, the only way they know that the Buddha is looking at a live image is by putting their hand in front of the camera. Then their hand would appear "live" on the monitor.
Kim Machan:
But I think this reflects very much on today's visual language through the internet and through technology. This idea of what is real and what is invented, and there is always that unstable notion that we really don't know. But I can seriously vouch to say that this at most times is live, and the thing is that this image is then beamed back to the Nam June Paik Art Center in Korea. So it's possible for somebody in Korea to watch the image projected here in Shanghai, and perhaps even see themselves in the projection in Shanghai that is redirected back to Korea. And in that projection, you can also watch somebody that might be in Korea looking at the work in real time. So, there are a lot of twists and convoluted ways of thinking about what that image really is.
Barbara London:
I actually think this is something philosophical that Nam June and other pioneering video artists were addressing: What is now, the present moment? It was very important back then. As you note, this is important now, as COVID has slowed the world down. We will be seeing many changes in artwork and in how museums move forward. During the lockdown, that versatile little smart phone everyone carries has connected us, but maybe drives us crazy. The artist Rachel Rosen recently told me that being home during COVID, she became sick and tired of staring at the screen all day. It was her social life, it was her work life, it was everything, and she couldn't go outdoors. We love our devices and we hate them. It's great that we can do things like this conversation, which is pretty remarkable.
Kim Machan:
It is an interesting progression in how exhibitions might be made into the future. In reality when we make these big international exhibitions, it's only a very small amount of people that can actually travel all around the world to see them in the first instance. In the past we always acknowledge those shows as being totally accessible, that you could see that project in Shanghai or in New York. But in fact, it was a very cost driven exercise. If you could afford to fly, can you also afford the time? But then on the other hand, what COVID has done is make us really think about how we can experience exhibitions? How it can be experienced in a very much deeper and slower way. For instance, working on this discussion with you, we've met probably five hours in total in our preliminary discussions. That might not be necessarily acknowledged in this conversation but those earlier conversations were so rich and somehow, I think if the world was 'pre Covid' it would not have happened that way. I think it would have been wonderful to do a streaming ongoing discussion! The knowledge that you have is really just a treasure. Fortunately, you've written a book about some of it!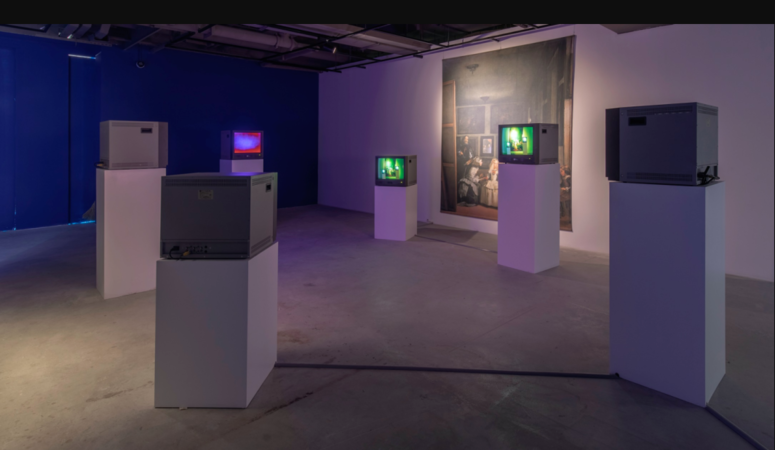 Barbara London:
I feel very fortunate that I'm of an age where I actually met Mr. Yamaguchi. I met him in New York in 1974, when he was there for the "Open Circuits" conference at MoMA. Then I went to Japan a few years later to research my show, which featured his work, Video from Tokyo to Fukui and Kyoto. Sadly, he and several other artists of his generation in that show passed away a few years ago. I was fortunate to visit him in his nursing home a year before he passed, when he was excitedly still making artwork. He always read and studied about art, design, and technology. He knew so much, and thought so deeply. His work in your show is a brilliant play on Las Meninas, the famous Velasquez's painting of 1656. It's a portrait of the royal family, and the portrait painter is right there in the painting, along with viewers shown in a mirror. The perspective is very complex. For Mr. Yamaguchi to play on this and the live image early, he was ahead of the pack.
Kim Machan:
In 1972, he was doing his first interactive video performances in Tokyo, so he was he was right up there with Dan Graham and maybe a tiny bit after Bruce Nauman. But I think that it's fascinating to think that this was happening in a simultaneous way as soon as the technology was available, the artists started playing with it, and trying to work out what they can do, what do you do with it. I think that is something that happened across the world. What I found really fascinating with this work is that he's taken western painting, and made his approach to Las Meninas. He talked specifically about making the work about a video version of the Las Meninas, so all of the sight lines he re-complicates them with CCTV. This work hasn't hit the video art history books at all up until now – I hope this exhibition will change that. I think it is because the single channel video was very easy to present, very portable, and it was moving around the world in a relatively easy way. But video installation was something that took a lot more money and presence. The artist had to be present to direct it, and so those types of installations that were difficult to install and difficult to photograph weren't collected. As I must say, you need a moving image to really get the sense of what the work is doing. Would you like to comment on that idea of how artworks are left behind?
Barbara London:
For artists working with video in the 1970s, I think the single-channel videos were made with some spontaneity and were easier to exhibit than the multi-channel installation, which needed more equipment and space. You maybe could think about them in light of how when Henri Matisse created his paintings, these works were quite formal. Whereas when he created his small, human-scale sculptures, these were formed from soft clay and made with his hands, the work had a tactile, intimate feel. In terms of video, history is a conundrum. Some of the earliest video work was briefly in the limelight and then forgotten. I think that's where this research that went into your show is so important. I hope that many people will visit the show, walk through your insightfully arranged exhibition, watch the videos, read the text and documentation, and think about all of these artists who were working in a very original way.
Back in the 1970s, there were a handful of "survey" shows. One was organized by the outstanding director of the Institute of Contemporary Art (ICA) in Philadelphia, Suzanne Delahanty. The show presented work made internationally, both installation and single-channel videos. The work that came from Japan was all single-channel video, partly for economic reasons. It's simple to put a 3/4-inch video cassette in an envelope and to be mailed. That was the economics of the situation. The ICA published a catalog, and every artist with work in the show was given the same amount of bio space, so they were all treated equally. One hopes that early work like Mr. Yamaguchi's will be collected by a major museum in Japan.
Kim Machan:
I was thinking about all of the exhibitions that have been happening in really just the last decade, some excellent research going into the early video art. And a recent work by Sing Song-Yong, and his research into the beginnings of Taiwanese video art, and the most interesting point of that when I looked into his research, I mean I have the catalog of the exhibition that he created with co-curator Wang Po Wei. The installation art was really exciting and interesting to see, but those installation pieces are just not as circulated, so it again always comes back to the single-channel which tends to have a natural bias to a narrative.
Barbara London:
I was just thinking, installations are very complicated entities. They are complex technically, require space, and generate sound. When a work is lent to an exhibition, at least the sculptural components need to be shipped. And perhaps the exhibitor borrowing a work needs to assemble the necessary equipment, always considering the artist's intention and their aesthetics. Scholarship around the work is an important part of the archival process. When I talk about how I worked at MoMA, I used to say I saved every piece of paper an artist ever gave me, whether that was a CV, articles, catalogs, or magazine articles. Everything is there at MoMA, now in the Library for future scholars. Of course, it is very organized, which was the job of interns working with me. There's a lot of important material sitting there waiting for scholars. In fact, I'm advising two young art historians working on their Ph.D. at Carnegie Mellon in Pittsburgh, and one is about to deep dive into the history of the video program at MoMA.
As I've been based in the U.S., I know the work of American artists the best. But I always tried very hard to learn about art being made in other countries. Some artists active early on have been overlooked. Perhaps they had difficult personalities or their politics were contrarian. But now some of their work is being re-examined, and we are starting to see retrospectives of their work. One only hopes that their work is archived properly. There's a wonderful organization out of Philadelphia now, called Collaborative Cataloging Japan, and is focused on the conservation and presentation of very early experimental video and film from Japan. We need that for China, for Korea. I hope there are energetic young scholars taking that on. The Asian Art Archives is trying hard to assemble ephemera (flyers, magazines, etc.) from the region, and they are doing interviews, especially with older artists. It's important to interview these artists while they are still alive.
Interviews with artists are so important. At MoMA, with the acquisition of every media art installation, an in-depth interview with the artist was a must. A team from the registrar, conservation, and curatorial departments would sit down together with an artist and ask very specific questions about the aesthetics of the newly acquired artwork during the artist interview. The conversation with the artist was documented by recording with a video camera. It was important to document for future reference what the artist's aesthetic and technical considerations about the work are, as well as to understand what the artist's personality was. All of this is related to the work. Sometime off in future, a curator will be able to look at the documentation and make good decisions about how to handle any technical upgrades, keeping foremost in mind the artist's aesthetics. Years from now if you have to do conservation work, how are you going to do it? Actually, understanding fully what an artwork was about began before a work was acquired. An institution or a private collector needs to understand what an artwork is about, and what the responsibility of owning the work is.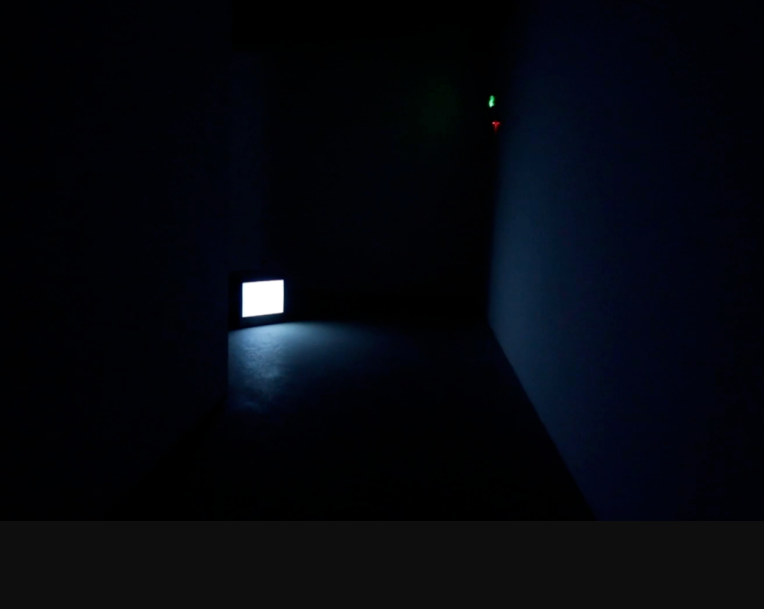 Kim Machan:
We'll now move on to the Yoko Ono work in the exhibition, Sky TV, 1966. What a wonderful hijacking of technology and change of function of television as broadcast entertainment and CCTV as surveillance.
Barbara London:
There's something also very magical about this, and very metaphysical. She installs the camera up on the roof, and so the viewer is looking at a monitor of the sky. What is nature? Nature is changing, nature has cycles. Usually we think of technology as cold or as being neutral. But it's not neutral if it's in the hands of an artist, or if it's a political tool. This is quite interesting.
Kim Machan:
What I love about this work is when you look at the screen, when you look at the monitor, and you know that the camera is pointing into the sky, but that monitor is flat, and it's a representation of space in the sky. But if you really think about what you're looking at, it's the infinite sky, because the sky doesn't stop, it goes off into space. So, you're looking at the entire universe through this skinny electrical cord that connects to a camera on the roof. To me, that's just so sublime, and the intelligence of being able to turn something that was for mass communication and spectacle entertainment suddenly becomes this incredible philosophical spiritual experience.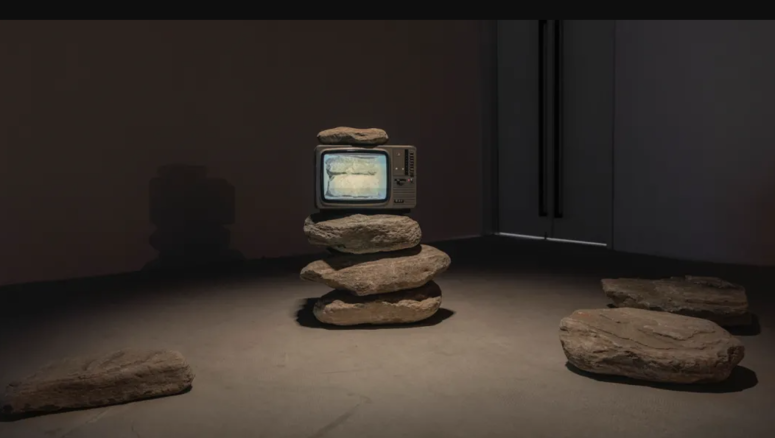 Barbara London:
Park Hyunki's work is beautiful. This reflects Korean aesthetics, and is, as you've said, different from Yoko Ono's work. There's the juxtaposition of the natural and the man-made object, which is the TV monitor. I see here that you've maintained the original aesthetics by using an old analog TV in the gallery. The work is from 1979-1982, its aesthetics call for the physicality and bulk of a monitor. It would not be correct to present the video component on a contemporary thin, flat screen. So it is important to present the installation the way it was originally intended to be seen.
Kim Machan:
The sculptural space of the monitor recurs throughout the exhibition. It becomes very evident, a flat screen is not the same as a CRT cube image, and the expanded physical space it takes up is intrinsic to the artwork. The technology is medium specific to the artwork and most authentic when presented with that particular original type of monitor, model and style. In the artworks throughout this exhibition, the choice of technology tries to stay close to the original and aims to be able to present the works as they were originally intended. Rather than a generic projection or screen, I wanted the works to have the same sculptural presence as the original work.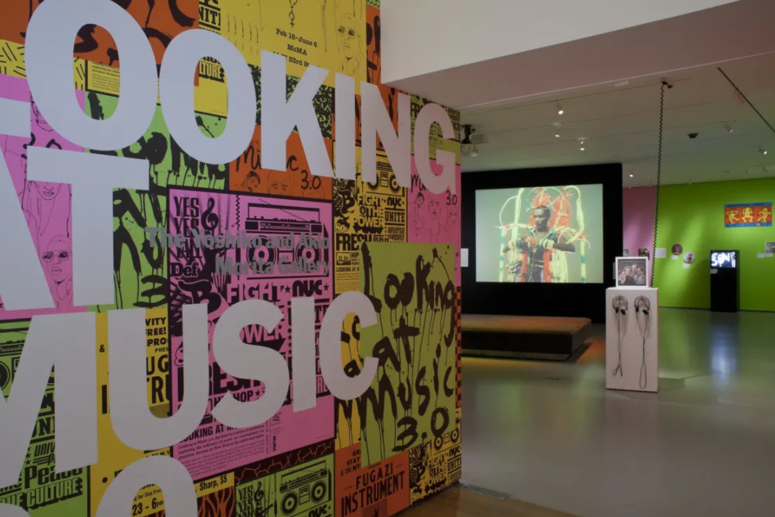 Barbara London:
When I was at MoMA, a number of years ago we stockpiled about fifty or so of the cube monitors with 4:3 aspect ratio. This means if you were to go to MoMA today, you would most likely see quite a few early video works presented on cube monitors on view in the galleries.
I wanted to show a couple of slides that give an idea about what I've done during my curatorial career, I've always been very interested in music. I organized three exhibitions that explored the interconnection between music and visual practice: Looking at Music; Looking at Music Side 2, and Looking at Music 3.0. Each was a mixed media show and focused on a decade—the seventies, the eighties, and the nineties. There's too much to talk about!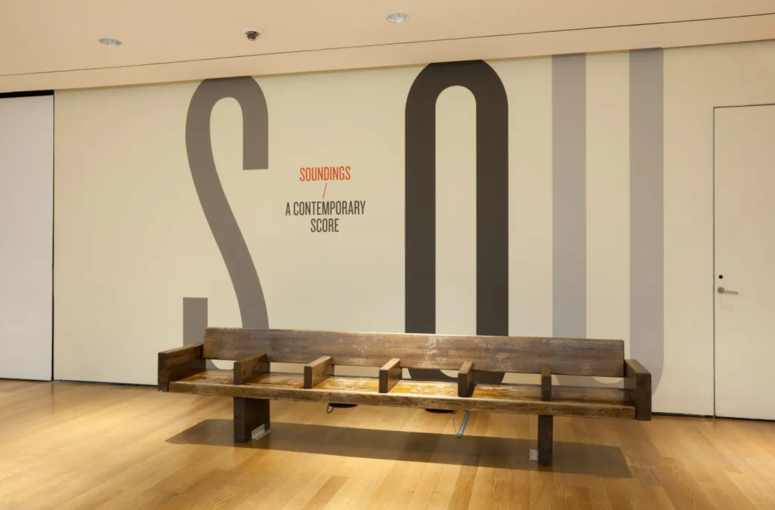 This was the last exhibition I organized at MoMA, before I stepped down after forty years as curator. The title was Soundings: A Contemporary Score. Here you see the entrance to the show, where I placed Sergei Tcherepnin's Motor-Matter Bench. In organizing the show, like you I thought a lot about how do you engage an audience make them feel comfortable in seeing and hearing work they are unfamiliar with? As curator, in your selection of work to feature, you try to have a variety of sensibilities and aesthetics. I selected several installations that required a dark room in which to be experienced, but other, more sculptural sound works were presented in gallies with light. Tcherepnin's piece was situated on a landing, right before the visitor entered the galleries where most of the show was installed. It is an actual New York subway bench, positioned where usually there were soft benches. Visitors would sit down on Tcherepnin's subway bench, and through bone conduction would hear his sound composition.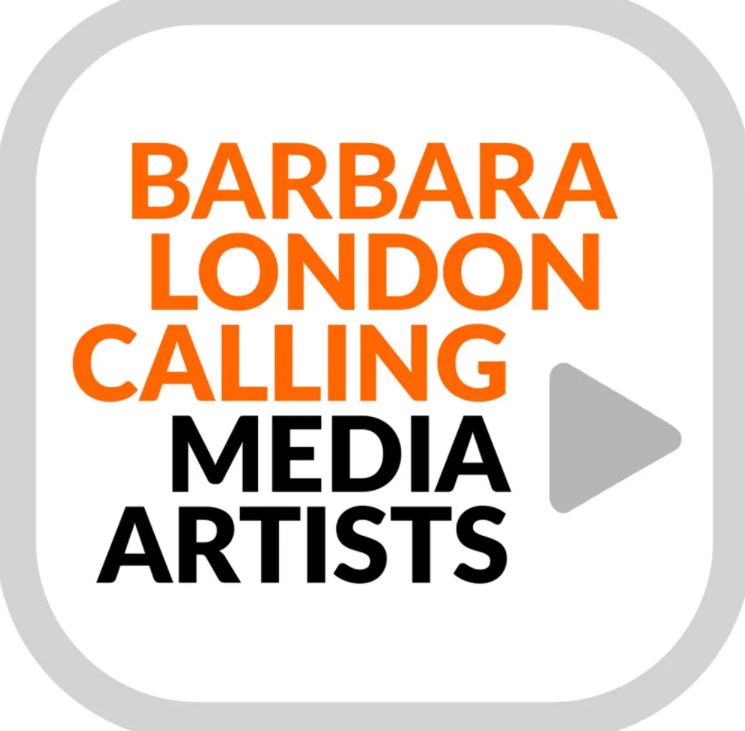 Phaidon published my book, Video/Art, the First Fifty Years, in January 2020. I had embarked on a book tour, when the COVID happened it ended the tour. I thought, what am I going to do now? I can't sit on my hands at home. So, with a wonderful small production team called Bower Blue I launched "Barbara London Calling". I engaged 12 media artists in conversation. The last question I asked each one was, did they consider themselves a media artist? Each one said no. They work across disciplines and prefer to be labeled first and foremost with the simple term, artist. What we always have to remember is an artist's ideas and their practice comes first, the medium is second.
Kim Machan:
Thank you Barbara for sharing your knowledge and experiences, actually what you've described as a first-hand account of how certain aspects of East Asia video art were integrated into western art history, and how the artist networks weave and overlap in what is a first global contemporary medium. And we can also see the huge influence that East Asia has had on artists in the west by their international presence in New York for instance and elsewhere. And by western artists and academics visiting the region, so the aesthetic language of the video medium belongs to the contemporary world, a global art world. By looking at the medium and refocusing on the medium, we're strengthening and reconsidering the aesthetic language of video art as a foothold to reconsider both historical and contemporary art. Thank you very much Barbara, and I hope we can continue this conversation.
Q&A
Q1: What characteristics of Chinese video does Barbara appreciate the most?
Barbara London:
I have to say that I appreciate the wit. By this I don't mean the humor, but the wry intelligence. There's a dedication and a drive, and I appreciate that spirit.
When I'm doing research in China or elsewhere, I believe it's important to look and try to understand what's inherent, what is integral to the culture. I respond to things that are coming from somewhere deep, to understand how an artwork could be shaped by the culture, what the artist grew up with and in which they're living.
Kim Machan:
The interesting thing about video is that when any artist comes to that medium, those really deep characteristics, I would argue are more transparent in video art because video as an artistic medium doesn't have a particular national characteristic. The actual medium of video is transparent, not attached to hundreds of years of traditions or conventions. As a newly invented medium it was accessed in a relatively short time, just twenty years or so, where everyone was experimenting and exploring the medium. Perhaps more than any other artistic medium you can look at video art as a measure of contemporary cultural attitudes and characteristics.
Barbara London:
There are a couple of words, I could say about the work of Chen Shaoxiong when he was making his ink drawings, and turning the drawings into animations based on what was happening in the news. He was taking local events or national events, and turning them into something else. What drew me to the work was his wit and drive. Actually, we acquired one of the animations for the MoMA collection. Then we acquired Peili's Eating, which is simply three stacked monitors. It's as if he's asking what is culture, as we see a Chinese man who is eating Western food using Western utensils.
Q2: How would Barbara interpret the repetition in early video art in China such as Zhang Peili's works?
Barbara London:
Repetition was used as a structural element in many early works of video art, for a range of different reasons. To repeat an action was straightforward, elegant, or perhaps challenging to the viewer. In Zhang Peili's case, the repetition of a particular, generally familiar action was often disorienting. His use of repetition tended to raise questions of power and subversion. In one example of what Peili did: he is seated in a chair, and the camera is directed at a chicken that he is holding at his feet. The chicken is in a basin of water, and he is washing the chicken with soap and water, over and over again. The disgruntled chicken survives this cleansing, which isn't something usual, and in fact it's disturbing. So, one can think about different subtleties in the metaphor or the symbolism. The man washing the chicken is in control, and he repeats the action over and over, so it's very unsettling. Then there's another video in which he breaks and reglues a mirror again and again, and that action becomes tortuous. We might say that it's a bit like what Yoko Ono did in regarding the sky and the infinity of the universe. Daily life can seen as somewhat boring, but in another light it's interesting. We have certain daily rituals and daily patterns: We brush our teeth the same way every day, we drink our tea from the same cup in the morning. I know that the mirror Peili breaks and puts back together was a standard size mirror that everybody in China had back then. So, the mirror he breaks is rooted in the everyday. Repetition is something that is part of contemporary music, too.
Kim Machan:
Looking really specifically at those early works that Zhang Peili was making, it is interesting to consider what he was doing with the video medium. There are things that just couldn't be done with film. Video could be taken into private spaces where it could be operated alone or just one other person if necessary. Standard VHS tapes were 180 minutes. In 30 × 30 the original version continued the smashing and gluing repetition for the entire 180 minutes. Likewise, with his next work Hygiene No.3 1993 the hypnotic action of washing a chicken continued for the duration of the video tape. Zhang Peili was working with conceptual rules and instruction pieces across his practice and these early videos were 'work to rule' endurance pieces that just weren't possible to do in film. The reason being firstly the cost involved. Could an artist really commit to such a boring experiment on expensive film? It is only with the freedom that if the footage was not worth keeping, it could be simply taped over and used again. It is an exploration into the medium of video, and a very specific use of the medium. Unfortunately, a lot of the original footage in those tapes was lost because deterioration occurred before it was properly archived, and why we see a shortened version now. This kind of experimentation with the long single take happened across the world. I think it's really interesting that when someone first gets that video camera, how do they arrive at an idea to make something? They have to consider what the medium can do.
Barbara London:
I think your ideas, and what you're doing with this great exhibition is to examine the use of repetition. Some of the first artists to explore video, like the American Bruce Nauman, repeated actions they performed alone in their studio over and over and over, and recorded the actions until the videotape ran out. Actually, years ago when I taught a history of video at NYU, I made the students watch all sixty minutes of Bruce Nauman's 1969 Lip Sync video, in which his head, rather his face from chin to nose is shown upside down and fills the screen. He wears big earmuff-like headphones. He repeats the phrase "lip sync" over and over. Actually, he's hearing what he just said in a few second delay, so he's trying to repeat, perfectly matched to what he hears that he just said. It's very monotonous, but after a while you start to recognize subtle differences in his action of saying what he just heard over and over: lip sync, lip sync… for 60 minutes. My students nearly went up the wall. I explained that they had to give themselves over to it, and that the work was like meditation. There inevitably were going to be differences in the way he said the words. So, the viewer can look for the subtle differences, as they dream or zone out while watching.
Kim Machan:
I think he had a few more devious ideas about what was doing than pure meditation.
Images selected from the speakers' slides, text proofread by the speakers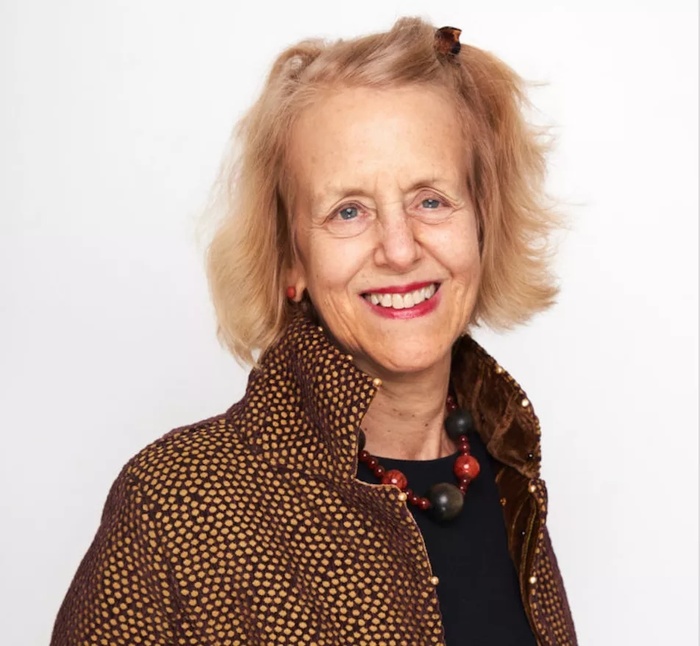 Barbara London
Barbara London is a New York-based curator and writer, who founded the video-media exhibition and collection programs at The Museum of Modern Art (MoMA), where she worked between 1973 and 2013. Her current projects include the book, Video Art/The First Fifty Years (Phaidon: 2020), and the podcast series "Barbara London Calling".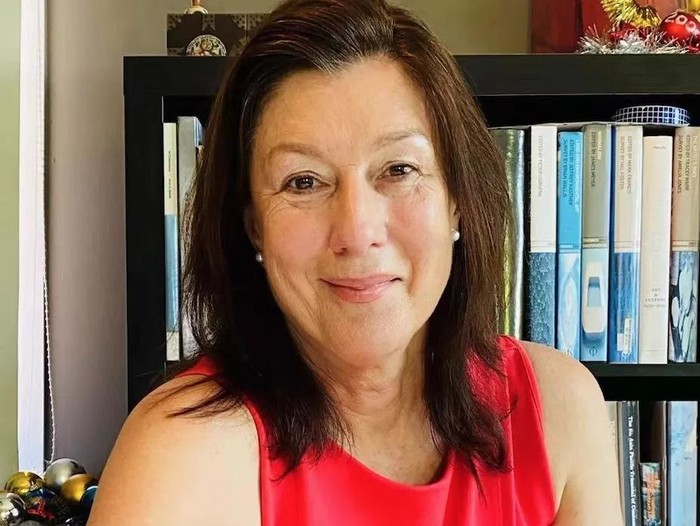 Kim Machan
Kim Machan is founding director of MAAP (Media Art Asia Pacific) developing curatorial projects in Australia and the Asia regions through this organization since 1998. In 2014-15 LANDSEASKY: Revisiting Spatiality in Video Art toured major museums and galleries in Shanghai, Guangzhou in China; Seoul, South Korea, Brisbane and Sydney. Machan has curated solo exhibitions of major artists including Zhang Peili, Wang Gongxin, Shilpa Gupta, Yeondoo Jung, Patty Chang and David Kelley. She is currently writing a PhD exploring the rise of East Asian video art at the University of Queensland.